An eclectic look at some interesting parenting books
This is a Book Week guest post from Becky Goddard-Hill (no relation!) of Book reviews for mums and Baby Budgeting.
Complete reviews can be found at Book reviews for mums.
The Expectant Dad's Survival Guide by Rob Kemp (What to expect when she is expecting) I have read of few books for dads on pregnancy and most have been quite jokey and blokey. Recently released this book was like a breath of fresh air. This book does have a really great sense of humour and speaks to dads in their language but it is in no way flippant. The book is packed with expert tips from a male midwife, obstetricians, psychologists and 'a man who knows a lot about car seats'.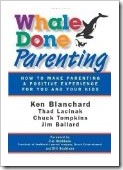 Whale Done Parenting: How to Make Parenting a Positive Experience for You and Your Kids This book sounded a bit crazy to me…how to get your child to behave along the principle of whale training. However (honestly) I had to try it out and it worked. The idea is you make doing the tough task as absolutely doable as possible e.g not a sticker after you have been to the potty necessarily but a nice time when you are on the potty instead…a story, company, etc. apparently! Make the experience as nice as possible so tasks are more likely to be achieved. A very interesting read.
Goodbye Pert Breasts by Ben Wakeling. Ben is a daddy blogger who has a popular and very successful blog. Ben has a way of phrasing that men can really relate to and he is just that little bit risqué …oh okay he steams in and says what dads long to say. Goodbye pert breasts is a lament my husband surely has but would never say to me and it's what Ben named his blog, and now his book! It gives blokes the giggles. I have to say I found Ben's book hysterical!
How to be a Happy Mum: the netmum's guide to a stress-free life. This is a big book chock full of sound ideas, shared experiences and points in the right direction. My children are three and six now and I found myself nodding along in agreement and saying 'Ah, wish I had thought of that!' It's a wise book, an easy read, accessible and totally unpatronising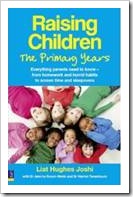 Raising Children: The Primary Years by Liat Joshi. Being a parent of primary school children means facing lots of issues you may not have even considered. Playground stuff, sleepovers, homework, activities out of school… It can be scary, a minefield even. I know I thought the confusing baby years were done and I'd be fine only to find the school years are equally befuddling!
This wonderfully comprehensive book looks at these primary years and all the issues they raise based on expert knowledge research and real life. I found it very useful.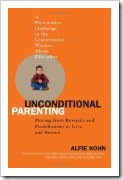 Unconditional Parenting by Alfie Kohn. I think this book is fabulous and important enough to have on our parenting bookshelves (or at least borrow from the library). It is research based and anecdotal and it's a refreshing/uncomfortable/thought-provoking read. It advocates parenting and demonstrating loving for our children without condition and being with them in their challenging times not ostracising or punishing them when they don't please us.
Cool Camping: Kids According to this book, camping and children go together like hot chocolate and marshmallows. I have to say my children adore camping and their eyes shine with excitement when it is even mentioned. Camping has always been the great budget family holiday option…but do tales of rubbish, boring, and campsites with terrible facilities put you off? If they do this book will change that.

The Good Sleep Guide for Kids by Sammy Margo. This is a simple, clear fact-filled practical guide to helping children aged 3–10 with their sleep problems. As I am sure you know it doesn't just end at the baby years. Sammy covers everything. The book offers practical solutions and advice and it's great because over threes and sleep is not a well-documented subject but still, of course, vital. Sammy is all about good quality sleep and writes in a clear accessible way.
Baby's here who does what? by Duncan Fisher. The subtitle of this book is how to split the work without splitting up! This is an interesting concept for a book. It is essentially about the roles we take on when a new baby comes along and the importance of teamwork and sharing that we need to consider. Fisher looks at a very typical problem. With the birth of new baby a dad can feel shut out of the mummy/baby relationships and the caring.
You can find Becky at her Baby budgeting blog, her Book reviews blog and on Twitter.