Sunday Reading: The Silent Girl by Tess Gerritsen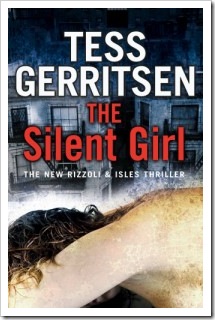 In her acknowledgements, Tess Gerritsen says 'No novel I've written has been quite as personal as this one.' And I think that this definitely shows. I haven't read a Tess Gerritsen novel that I didn't enjoy, but this one pulled me in much deeper than any of the others.
Tess Gerritsen is Chinese American, which doesn't come across overtly in any of her novels – that is, none of her main characters are Chinese American, though, as with all Americans, they do have their origins in the melting pot that is America. The Silent Girl, however, is predominantly set in Boston's Chinatown and explores Chinese mythology and traditions, in particular martial arts and some of the mythology that involves it.
As with all Gerritsen's books, The Silent Girl is full of twists, turns and tension. Some things you work out early on and congratulate yourself on being so clever, when in fact it's probably completely intentional that you worked that particular titbit out early, while she keeps you guessing with the important bits.
The Silent Girl deals with anonymous bodies and a dark, faster-than-human creature shedding mysterious hairs and wielding an ancient sword. And the mystery itself actually expands as the novel progresses. Issues of police corruption and loyalty among officers also comes up, continued from The Killing Place.
Tess Gerritsen's novels are so fast paced that I'm afraid I rarely notice the words themselves, but in The Silent Girl I did stop and notice a few particularly striking turns of phrase:
It was freezing inside, a windowless cavern that was so cold she could see her own breath swirl.
Her breath was a roar in her ears, every sense sharpened to diamond points.
As I mentioned a couple of weeks ago, I got this out on Fastrack from the library, so had to finish it within a week. This was not a problem. I finished it in three and a half days and, if I didn't have other commitments like children, husbands and work, I would have read it in a day.
A brief note about the TV series 'Rizzoli and Isles'
I watched the first couple of episodes of this on Alibi recently and I'm sorry to say that I wasn't very impressed. I think one problem was that a lot of it was so close to the novels, that the differences really stood out. Compare, for example, to 'Bones' which is based on Kathy Reichs' Temperence Brennan novels. Here the TV show is very, very different. The main thing that remains is the name and the job. This makes it easier to treat the books and the TV series as two distinct entities and not get concerned about characters being portrayed 'wrongly'. In addition, I didn't feel it was strong enough as a stand-alone crime drama to make up for it (where I would say that 'Bones' is). The second episode did improve on the first somewhat and I think I'll maybe try another couple of episodes before I give up on it, but for the most part I was shouting at the TV 'No! That's wrong. That's not what Maura would do. No!' And that's not fun. Well, not much.
Sunday reading round-up
The book world
Next week is Children's Book Week. Are you doing anything? Is your school? Take a look at Playing by the Book, where Zoe has shared her plans for a week-long celebration in her children's school. (I do read other book blogs, honestly, just Zoe comes up with such amazing ideas that it's very hard not to share!)
As part of its Books Season, The Guardian had a guide to independent bookshops yesterday. If you didn't catch it, you can read it online. Sadly, our local Stroud Bookshop didn't feature, nor did the Children's Bookshop, both of which are very good, but the still quite local Yellow-Lighted Bookshop in Nailsworth did – ah, another excuse for a day out in Nailsworth.
It's almost time for the Times Cheltenham Literature Festival and there's a new Cotswolds literature festival starting up in Chipping Norton in April next year, which looks set to be a good one.
What I've been reading
(I will review most, if not all, of these fairly soon.)
Virals by Kathy Reichs – Kathy Reichs goes YA, and does it pretty well (though I'm not a YA expert, so might be wrong).
The Sense of an Ending by Julian Barnes – Booker shortlisted, beautiful cover and binding, oh yes, and a good story, too – thought-provoking but not too much so (for me, at least – I'm sure there are people who found it not thought-provoking enough, such as the many people complaining that this year's Booker shortlist is too populist).
The Night Circus by Erin Morgenstern – I'm only about a fifth of the way in, but am absolutely loving it and am very glad that I bought the hardback, because this is another example of a beautiful cover and binding (you really don't get that part of it on Kindle). The cover and internal design fit the book so perfectly.
What are you reading? Do you have a favourite independent bookshop? Are you going to any literature festivals?