Three cabbage and chick pea soup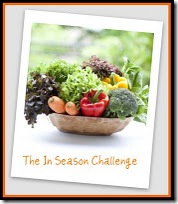 Carol at Make It, Bake It has set up a new monthly In Season Challenge to make something from an in-season ingredient.
And I have to say, what a brilliant idea! We started trying to cook more with in-season ingredients a few years ago. This was brought on by a need to cut down on our outgoings, however, we soon discovered that fresh, local, in-season produce tastes a lot better than the stuff that's travelled hundreds of miles on a boat or a plane, artificially chilled and so on.
We don't manage to cook entirely with local, in-season produce, but we definitely try to use it as much as possible. And it tends to fit with the weather, too. Root vegetables feel better in the autumn and the winter; salads feel better in the spring and summer.
The ingredient for this month is Savoy Cabbage, which is a great vegetable. It has a lovely colour, texture and of course taste. It's great in soups and stews, but can also be used to wrap other food, as a side dish in itself, as vegetable lasagne and probably a whole bunch of other things, too. Head over to Make It, Bake It on 6 February to read others' Savoy Cabbage posts.
Three Cabbage and Chick Pea Soup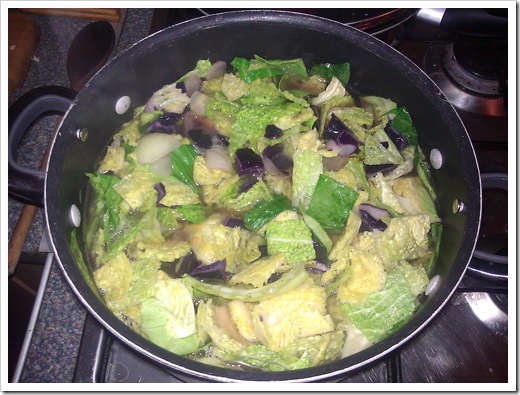 Warming, tasty soup, which can be served puréed or 'au naturel'. You can vary the cabbage types as you like, but keep the Savoy as the dominant one.
Ingredients
2 onions
2 tbsp olive oil
½ Savoy cabbage
¼ Sweetheart cabbage
¼ red cabbage
1½ litres vegetable stock (I use 4 Kallo stock cubes, rather than recommended 3)
1 (400g) tin chick peas
2 tsp ground coriander (or handful fresh coriander for a different flavour)
2 tsp paprika
Method
Peel and chop the onions into rough 1-cm cubes.
Heat the onion in the olive oil until translucent.
Meanwhile, chop all the cabbage into 1–2-cm chunks.
Add the cabbage and stir.
Cook on a low heat for 10 minutes.
Add the stock and simmer for half an hour.
Add the chick peas, coriander and paprika and simmer for a further 30 minutes.
(Optional) Purée the soup.
Serving
Serve with buttery chunks of crusty granary bread. Small bowls as a starter, big bowls as a substantial and nutritious main course.