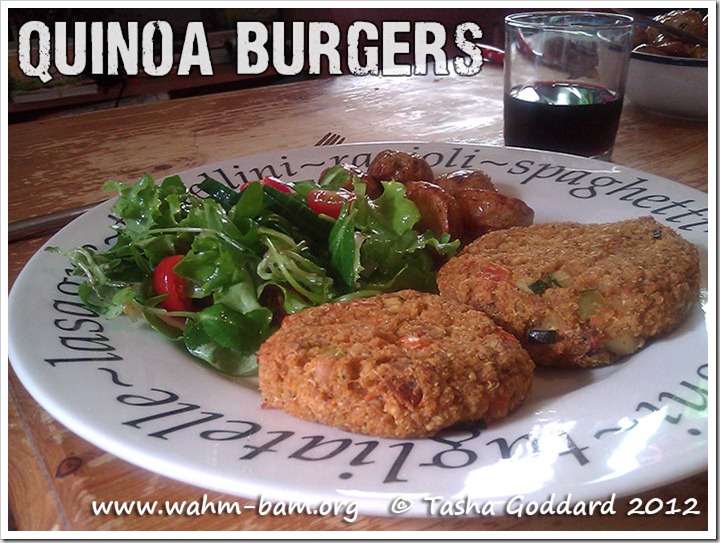 Quinoa is amazing stuff. It's technically a seed, but it's used as (and therefore often called) a grain. It's really high in protein and carbohydrate, but it's really low GI, which means it will fill you with good energy. The trouble is, I don't like it very much. I've tried using it instead of rice or couscous and I really don't like the taste, and am not overly keen on the texture. I use quinoa flour quite a lot, and that's great, but I really wanted to try getting it into my diet a bit more. So I thought of trying quinoa burgers. I had a look at various recipes for quinoa burgers and then came up with my own. And they were delicious! (The girls weren't hugely impressed, though. They may well have gone with them if they'd been in burger buns, though, with cheese and ketchup!)
It looks a lot more complicated than it is. They're actually quite easy to make, especially if you don't mind getting out the food processor (something I'm much happier to do, since we sorted out our cupboard)! There is a lot of cooling and letting the burgers sit for a while, which can be annoying, but if you make up a big batch, you can freeze them and then they're really, really easy!
Quinoa burgers: Recipe
Ingredients
1 cup of quinoa
1½ cups water
1 clove garlic
1 large onion
2 large carrots
1 medium courgette
2 sticks celery
1 pepper
1 tbsp olive oil
2 tsp bouillon powder
2 tsp cajun spices
1 tsp paprika
3 slices bread (I used seeded batch)
1 can beans, drained (I used haricot)
Method
Cook the quinoa
Rinse the quinoa.
Soak the quinoa in cold water for 5 minutes.
Drain and rinse the quinoa.
Place the quinoa and water in a pan.
Bring to the boil.
Simmer for about 15 minutes. Keep an eye on it, as it can stick very quickly.
Drain, rinse and set aside.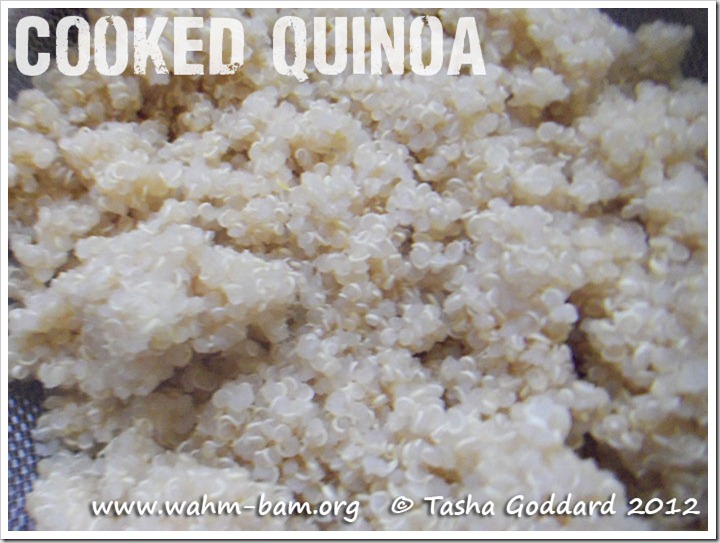 Cook the vegetables
You can do this while the quinoa is cooking.
Finely dice the vegetables.
Place the olive oil in a sauté pan (a frying pan or saucepan will also be fine) and put on a medium heat.
Sauté the vegetables for about 10 minutes in the olive oil.
Add the seasoning and keep on a low heat for about 5 minutes.
Add the quinoa and beans, stir and keep on a low heat for another 5 minutes.
Make the breadcrumbs
You could do this while the vegetables are cooking.
Place the bread (broken up into chunks) in a food processor.
Whizz up ntil you have breadcrumbs.
Set aside.
Mix up the burger mix
Take about two thirds of the quinoa and vegetable mixture.
Place in the food processor.
Whizz up until it's a thick paste.
Add about a third of the breadcrumbs.
Whizz up some more.
In a large mixing bowl, mix the paste, remaining breadcrumbs and remaining quinoa and vegetable mixture together.
Leave to cool for an hour.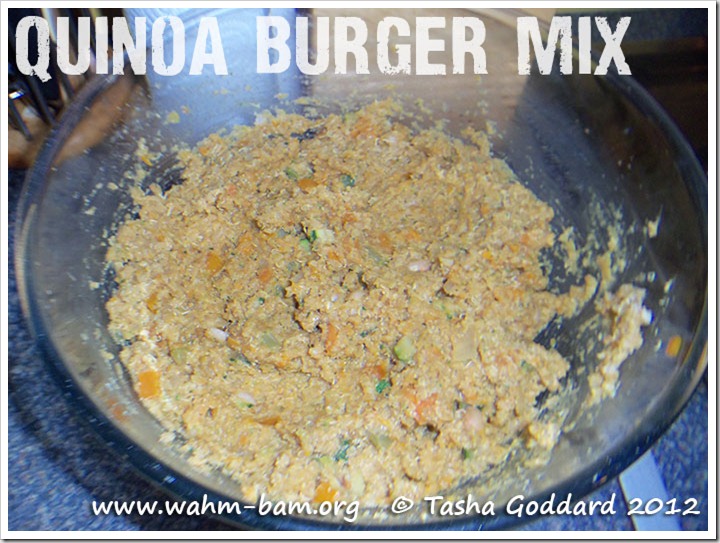 Make the burgers
Shape the burgers into patties or balls (I did some large ones for us and some small ones for the girls).
Put them in the fridge for at least 30 minutes.
(If you're going to freeze any, this is the point to do so. Wrap them in some baking parchment and pop them in a bag or box in the freezer. They should keep fine for a month.)
Cook the burgers
Preheat the oven to 180°C/350°F/Gas Mark 4.
Put the burgers in the oven (we have a silicone lining to place on our oven trays; if you don't have something like this, then you will need to oil the tray).
Cook for 20 minutes (or 25 minutes if cooking from frozen).
Accompaniments
We served ours with a salad and roast potatoes, which worked very well. (We had a glass of red wine with it, too.) Next time, though, we plan to try them with haloumi and perhaps a Moroccan-style spicy chick pea casserole. We think they'd also be delicious served in a ciabatta bun with haloumi and a spicy relish.
Adaptations
You can change this loads to suit your own tastes, really, or to suit what vegetables you have available. For example, you could use root vegetables in the winter (carrots, parsnips and sweet potato, perhaps). Or you could use more beans. Or you could make it spicier. Or you could remove all the spices and make it more Italian with some extra garlic and oregano, and maybe some chopped tomatoes. As long as you have the quinoa and breadcrumbs, you can just add whatever you want and experiment as much as you like.
My little recipe book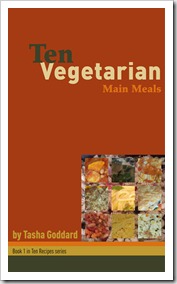 In case you haven't noticed the links in the sidebar, I've published a little recipe eBook. It's available in multiple formats, though my preferred one is the PDF version, because it's much prettier, and recipe books should be pretty, really!
Ten Vegetarian Main Meals on Kindle
Ten Vegetarian Main Meals on Smashwords (multiple formats)
Ten Vegetarian Main Meals on Gumroad (pretty PDF version)
Ten Vegetarian Main Meals on Kobo Books
It's also available on iBooks, but I don't have a direct link. Search for "Ten Vegetarian Main Meals".