Rainy day comfort food: Cauliflower cheese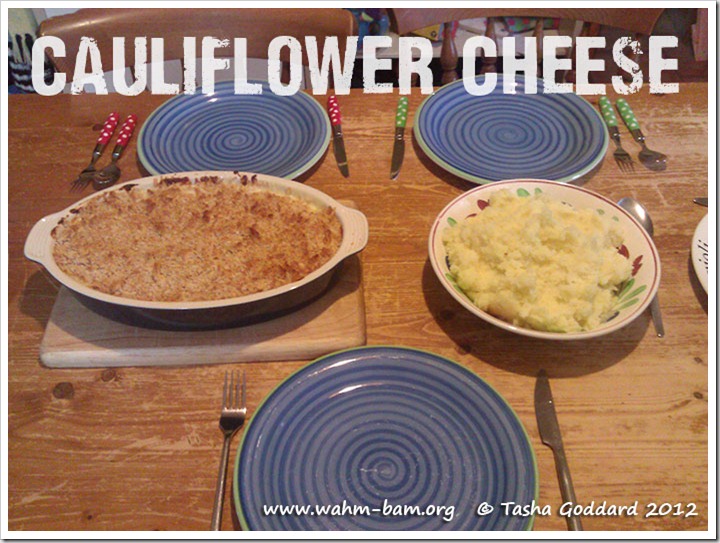 Well, it seems that we're still not having a summer. It's the school's 'Summer Sizzle' today, which looks like it's very likely to be moved in doors, due to the weather, though it's early yet, perhaps we'll be lucky and it will turn into a scorcher.
It seems that, instead of salads and light, summery meals, it's still all about the warming comfort food (or are you pretending and going with the summer food, anyway?). We've been having lots of beany casseroles (I've started experimenting with the slow cooker, actually, so will be posting a slow cooker beany casserole recipe soon), but probably the best bad-weather comfort food ever is cauliflower cheese. For us, cauliflower cheese is a meal in itself (though usually served with potatoes of some kind). I often see it as a side dish, as one of the veg to a 'meat and two veg' meal and I wonder at how anyone could eat it as a side dish and still be able to move about afterwards. It's very heavy and very filling. Perfect for a rainy day, indeed.
Cauliflower cheese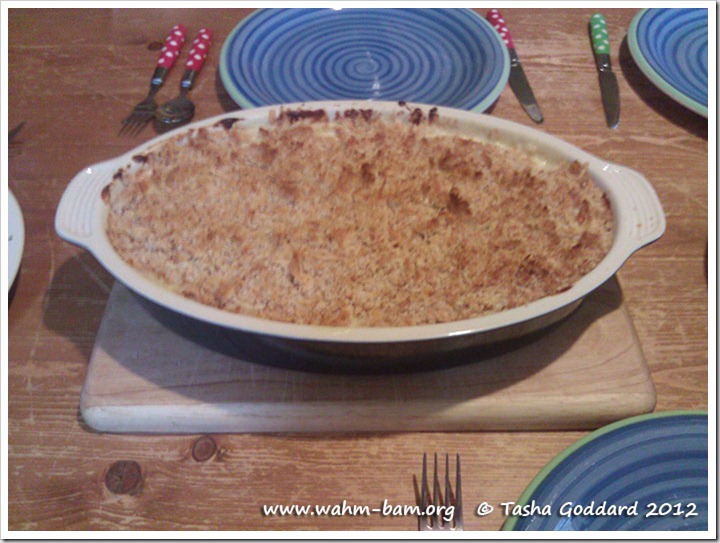 Ingredients
1 large cauliflower, or 2 small ones, washed and cut into florets
3 medium carrots, peeled and cut into thick slices (about 2cm)
100g butter
4 tablespoons plain white flour
1 teaspoon mustard powder
1 teaspoon vegetable bouillon powder
250g extra mature cheddar, grated (set aside two handfuls for topping)
milk (probably around .75 litre)
1 cup frozen peas
2 slices of stale wholemeal bread
a couple of handfuls of the grated cheese from the cheese sauce
Method
Boil the cauliflower and carrots for about 10 minutes (or you can steam them for 15 minutes).
Meanwhile, make the cheese sauce.
Melt the butter in a largish saucepan (non-stick, ideally) on a high heat.
Mix together the flour, mustard powder and bouillon powder.
When the butter is completely melted, add the flour mixture and stir until you have a roue (thick paste).
Gradually pour in some milk, stirring continuously. The sauce will thicken considerably. Keep adding milk and stirring, until the sauce starts thinning out to the consistency you want (thicker than pancake batter, thinner than cake batter).
Take the pan of the heat. Add the grated cheese and stir until it's melted in.
Note: It's essential to take the pan off the heat when you add the cheese, otherwise you lose a lot of the flavour.
Preheat the oven to 200°C.
Mix the cauliflower, carrots, cheese sauce and frozen peas together and place in a dish (we like to use a large oval dish these days, but we used to do it in a deep pyrex dish).
Grate the bread and mix with the set aside grated cheese, then sprinkle over the top of the dish to cover the cauliflower cheese.
Cover with tin foil and cook for 20 minutes.
Remove the tin foil and cook for a further 15 minutes (or place under the grill for 5 minutes).
Accompaniments
We tend to have this with mashed potatoes. Place potatoes to boil at the same as you put the dish in the oven, mash, then mix with butter and salt. This is very heavy on the butter, though. You can also serve it with crispy roast potatoes. Or you could leave out the potatoes and have a fresh green salad to start with in order to lighten it a bit.
Adaptations
You can add different vegetables in – boil/steam with the cauliflower or add in just before mixing depending on how long they usually need to cook. You can also add some chopped up veggie hot dogs for a different flavour. You can also combine the cauliflower with broccoli (sometimes I've had to do this because the cauliflower I've bought has turned out to be tiny).
Drinking suggestions
This really is perfect with a pint of ale, or even porter. Red wine goes quite well, too. And, if you want to lighten the meal, you could have some sparkling water mixed with the juice of one lime.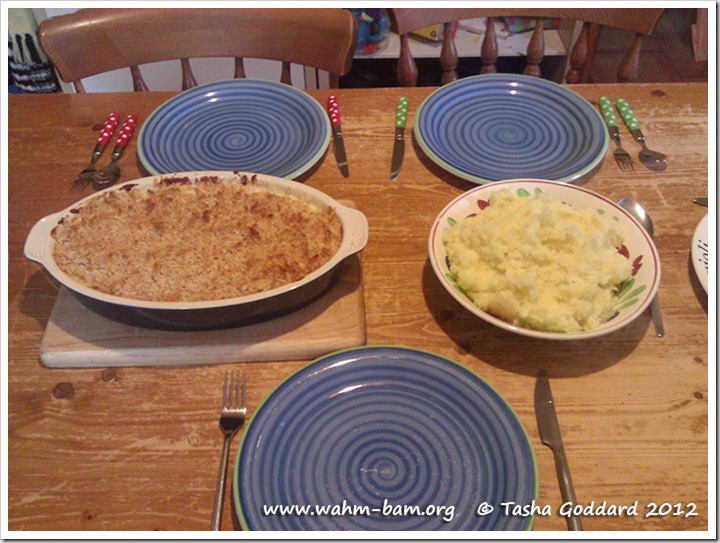 My little recipe book

In case you haven't noticed the links in the sidebar, I've published a little recipe eBook. It's available in multiple formats, though my preferred one is the PDF version, because it's much prettier, and recipe books should be pretty, really!
Ten Vegetarian Main Meals on Kindle
Ten Vegetarian Main Meals on Smashwords (multiple formats)
Ten Vegetarian Main Meals on Gumroad (pretty PDF version)
Ten Vegetarian Main Meals on Kobo Books
It's also available on iBooks, but I don't have a direct link. Search for "Ten Vegetarian Main Meals".