The Paper Dolls by Julia Donaldson & Rebecca Cobb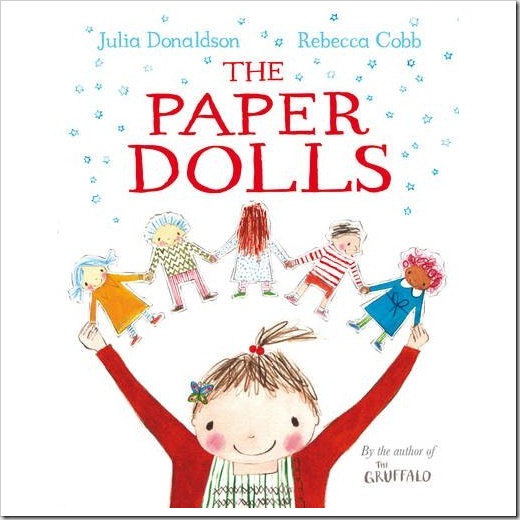 Unsurprisingly, this is a wonderful book. Written by Julia Donaldson, currently the UK's children's laureate and author of huge numbers of fabulous books, including Room on the Broom, Charlie Cook's Favourite Book and, of course, The Gruffalo, and illustrated by Rebecca Cobb, a fairly new illustrator whose book Lunchtime, we adored, it couldn't really disappoint.
It's a simple, but layered, tale of a little girl and the paper dolls her mother helps her to make and her games with these dolls and their eventual demise at the hands of another child.But it also talks (beneath the surface) about death and memory and the cycle of life. I challenge any adult to read this and not get a little tearful at the paper dolls dancing in the little girl's memory.
The pictures work perfectly and Rebecca Cobb was an ideal choice to illustrate The Paper Dolls. They contain a naivety and essence of whimsy that seems just right for the story. (Or perhaps the story dances in our heads in the way it does, because of Rebecca's artwork.)
And the girls loved it, too. They especially enjoy trying to recite the names of the paper dolls and pointing each one out as we read.
Video of The Paper Dolls
We have a (very shaky and quiet at first) video of me reading The Paper Dolls to LaLa, filmed by RoRo.
There's also a much better video from the publishers, that gives a really good feel for the book.
You can find The Paper Dolls on Amazon, WH Smith, from the publisher (Macmillan) and, of course, in your local children's bookshop. Please do support your local bookshop.
Disclaimer: We were sent a copy of the book to review, but all opinions are our own.