Being a vegetarian abroad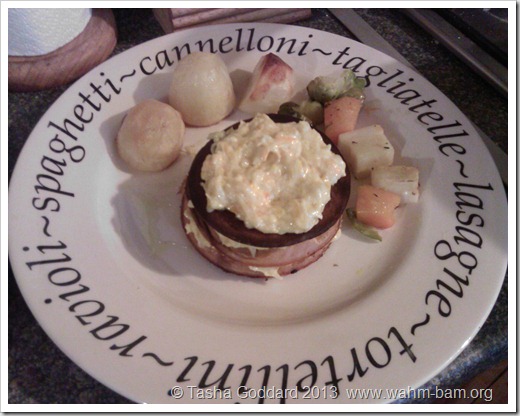 There were a couple of pieces on the BBC News site (20 of your tales of vegetarian woe and Where vegetarianism is an exotic illness) about what it's like to be a vegetarian when you're travelling around. It got me thinking about my own experiences of vegetarianism over the years.
I'm a third-generation vegetarian and have never willingly (well, apart from a decision to try a fish finger and mouthful of fish as a young child) eaten meat or fish. (I am very lax about leather and also don't worry as much as other vegetarians about rennet and gelatin.) I have travelled a fair bit in and lived in Europe (never further afield, though hopefully one day we will) and come across a variety of attitudes and abilities to cope with vegetarians.
When I was growing up, the UK wasn't especially good at coping with vegetarians – it's much, much better now. I have a very strong recollection of being really excited at school one day because dinner was going to be spaghetti bolognese. The spaghetti bolognese I was used to was made with a TVP mince and lots of tomato puree and I honestly had no idea that there was any other kind. When I held my plate out with glee at the lunch hatch, instead of steaming pile of tomatoey pasta I got a dry lump of congealed spaghetti and handful of grated cheese. I was so very disappointed I think I even cried. Another childhood memory is of visiting my Gran in Wales and her always telling my dad 'There's a tin of spam. Does she want some spam?' And there were others from her generation who didn't understand that ham and spam were not vegetarian (as anyone who's watched the Royle Family will recognise). Secondary school meals were a bit better, with one veggie option, a salad and a pizza. I tended to go for chips and pizza, or in the later years of school, I wouldn't have anything and saved my lunch money to buy long socks, hot chocolate and… well… cigarettes.
When I was about eight, my mum and I went to an Esperanto congress in a castle in France (fabulous location). They seemed to be under the impression that we were vegan (better, I suppose than accidentally serving us meat), as our meals consisted of huge bowls of grated carrot and green beans. That was it. One day we had an excursion to a local cheese-maker and we bought a large block of cheese and kept it in our room (gradually growing smellier as the week went on) to provide us with protein.
When I went on the German exchange, I was put with a family who owned a healthfood shop as it was thought that they would be best able to cater to a vegetarian. They were very nice and tried very hard. They were especially proud of the cauliflower cheese they had made – which had chopped up (meat) frankfurters in the sauce.
When we lived in Spain, we couldn't really afford to go out for lots of meals, but we always had lovely food when we dined at friends house – I especially remember a lovely rice salad that we had at our friends Theo and Sylvie's. The one meal I do remember going out for was to a pizzaria near the beach – and we had a margharita (Italian restaurants are a staple for the vegetarian abroad as there is always at the very least a margharita) and a lovely dessert of sorbet inside a scooped out orange. And, of course, we had loads of tortilla and churros from cafes and street vendors. Other than that my dad cooked wonderful meals with lovely fresh ingredients that he got from the local market. If you can cook yourself, then you can usually do pretty well in most places (at least in that I have found in Europe, elsewhere may well be different). My favourites were fried egg sarnies made with lovely fresh white bread and a spaghetti (pasta was always spaghetti or macaroni until the late 80s it seems) with tomato and chick pea sauce.
When I hitched round France before uni, we ate entirely in Italian restaurants – pizza or pasta – and bread, cheese and crisps for lunch. To be fair, I never even dreamt of trying an ordinary French restaurant until a while later. When I lived in France, again, the only times we went out on our own (or with my dad when he came over to visit) we went to one of two Italian restaurants in the town and did fine. I did get taken out for a fondu by one of the teachers I worked with one time, and that was fine at first, because they were just dipping bread, but then they brought out meats to dip and I stopped eating and just ate the bread on its own. I had a mostly successful time when dining with friends and colleagues. I ate a lot of Raclette, a Savoyard dish where you place sliced boiled potatoes under a grill covered in cheese and then eat it alongside cold pickles and cold meats (the latter I forewent) which I loved but have never attempted here, even though I've seen the Raclette cheese – because whenever I had it there, everyone used this special Raclette Tefal table-top gadget and I wouldn't know how to do it without one! One of my students was very kind to invite me round for dinner one night, too. She lived in an HLM (council flat) and she cooked us chicken (which I didn't eat) and a lovely big bowl of fresh salad which I was able to dissuade from adding anchovies to. She and her boyfriend then took us to a pool bar and we played a few rounds of pool.
More recently I've had much more success in Europe – in Copenhagen, Paris, Brittany and Normandie, and even Spain. In Spain there are usually a few tapas that will be fine and there's also a big plate of warm vegetables which is lovely. In Paris, even the posh restaurants were happy to do 'une assiette de legumes' if they had nothing else on the menu – and they were bloody good legumes, too! Brittany and Normandie excel at their crepes and I'd happily eat the gorgeous buckwheat crepes all day long. Leek and blue cheese filling was probably my favourite (if you don't count the dessert crepes!). Omelettes are usually available, as are chips (though I didn't quiz anyone on the fat used to fry the chips). In Copenhagen, there were lots of nice fresh vegetable dishes and pickles, as well as some lovely cheeses. And these days our holidays are almost always self-catering, which means copious quantities of lovely cheese, delicious bread and amazingly fresh and succulent vegetables. Salad, bread and cheese will do me fine, thank you, especially if I can wash it down with a few glasses of red wine.
Are you vegetarian? How have you found eating out when abroad or staying with families? Is there anywhere you've found it completely impossible?