Really easy chocolate sauce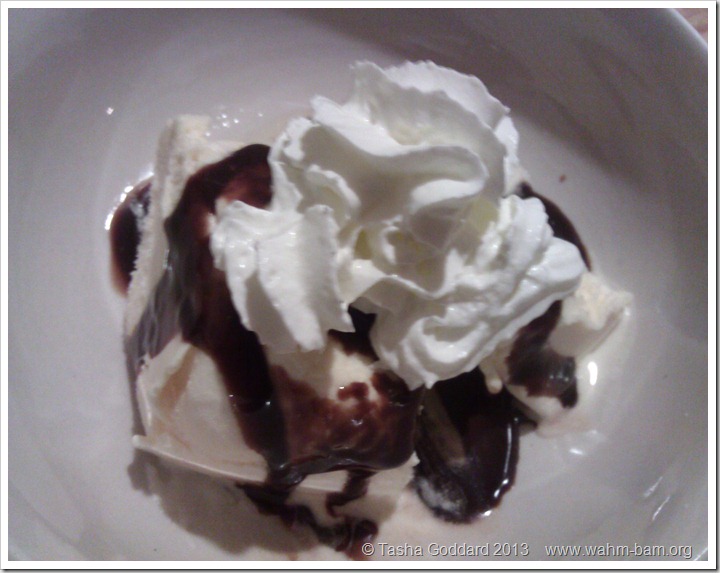 We don't do puddings every day – for health reasons mostly, though I do know a lot of people incorporate desserts into their healthy eating (fruit crumbles and fruit and yoghurt can be very healthy and there are lots of other fairly simple fruit-based desserts that can be a real treat). But we do have puddings at the weekends (Friday and Saturday, and sometimes Sunday, as well). Sometimes we'll pick up something fancy (or semi fancy) if we go to the shop (trifle is a big favourite, as are various tarts, especially chocolate ones for me and the girls), but often it's just a bowlful of ice cream.
The other week I decided to try glitzing up the vanilla ice cream a little and thought I'd have a go at making a cheat's chocolate sauce. It went down so well, we're now having it every time and even won over a playdate who was not at all keen on the idea.
Recipe: Really easy chocolate sauce
If you have a microwavable small jug, this works best.
Ingredients
2 heaped teaspoonfuls of chocolate spread (we have used Tesco Chocolate and Hazelnut Spread and also one called Duo, which we got from Home Bargains for 80p – I think the inclusion of hazelnut is really noticeable in the flavour, but I imagine it would work with plain chocolate spread too)
2 teaspoonfuls of water
Method
Zap in the microwave for 20 seconds (on high power)
Stir vigorously until fully melted and mixed together
Pour over ice cream (or pancakes, or whatever requires some chocolate sauce)
Eat. Probably very quickly.
We now have fancy ice cream whenever we're having an easy dessert – vanilla ice cream, really easy chocolate sauce and a dollop of squirty cream. Yum, yum, yum.