Creative Creatures blog tour (includes video)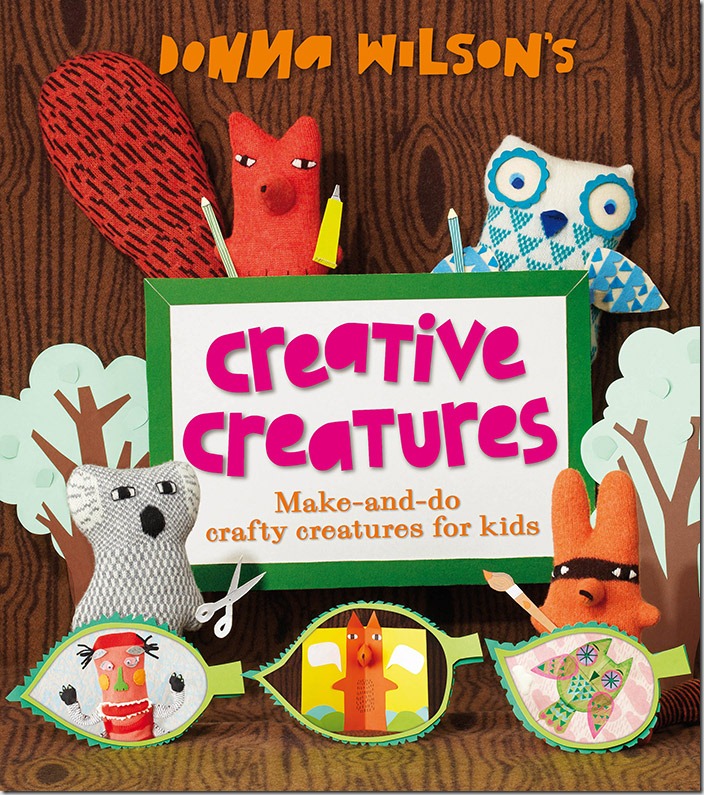 We're taking part in another blog tour this week. This time it's for this rather lovely crafty book by Donna Wilson. It's called Creative Creatures and it's full of crafty creature making projects, with varying degrees of difficulty – some are OK for pre-schoolers to have a go at, others will require good sewing skills, for example.
We got to pick one of the crafts to have a go at. The girls have bookmarked quite a few they'd like to try, but we settled on the Mitten Kitten's finger puppets, which is a pretty good one for young children to have a go at.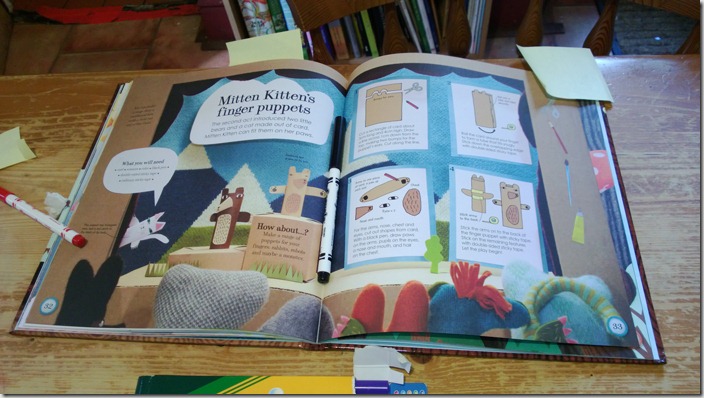 I think RoRo (6) would have been able to measure and cut the templates out, but she chose for me to do this, so that she and LaLa (3) could just get on with decorating the puppets and devising a puppet show. Before we started, the girls decided they wanted to do Goldilocks and the Three Bears and so they would need three bears, one goldilocks and some woodland creatures.
I was a little concerned that the measurements must be wrong, but we did a test one and it turns out they are absolutely perfect for little fingers. I made some bigger ones to fit my fingers, too, though. I cut out a whole bunch of rectangles in different coloured card, so that they could pick and choose which they wanted to use.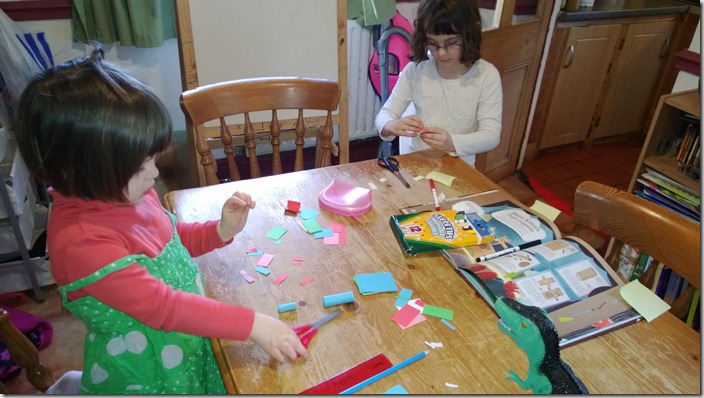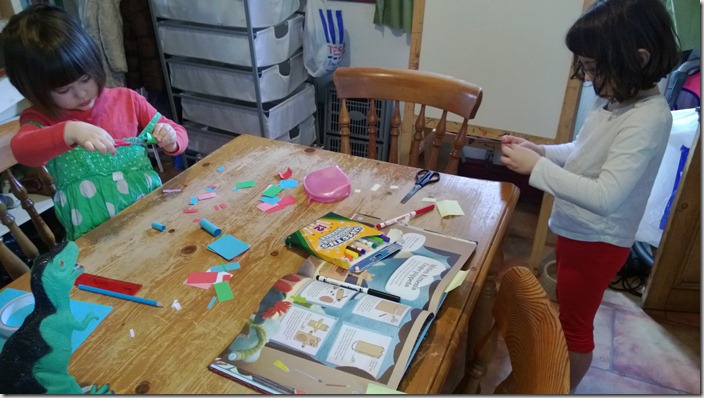 LaLa made three blue bears and RoRo made Goldilocks (including adding hair made from post-it notes). I made an owl, a cat and a tree.
The girls then got a little bored and went off to play, so I thought I'd make some furniture. While I was doing this, they wandered back and got really into making furniture, too, so we ended up with four scenes – the woods, the kitchen, the living room and the bedroom. RoRo made a wardrobe and a television and LaLa made pillows for the bed and a picture for the bedroom wall. I loved how they really got into it and started having their own ideas for what to do – I think the best crafts are one that inspire children's imaginations.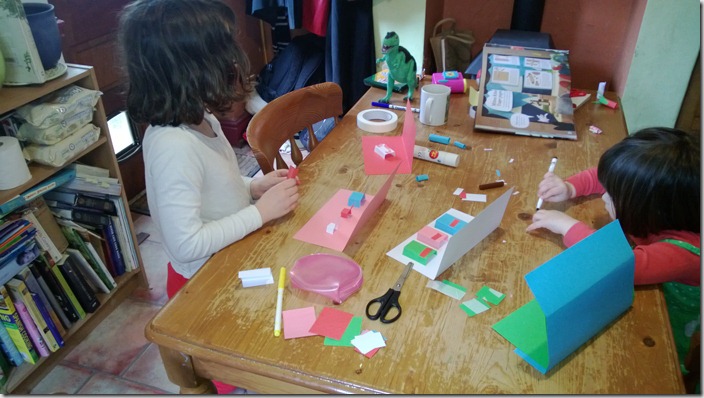 And then, when we were done, we made a video of the puppet show. OK, we made two videos. The girls had to swap characters and do it all again. LaLa did a whole version by herself this morning, too and then continued playing with the finger puppets for ages (another sign of a good craft – if the results of it last and are not consigned to the recycling box within a day).
Goldilocks and the Three Bears, Version 1
RoRo plays Goldilocks and the woodland creatures; LaLa plays the three bears.
Goldilocks and the Three Bears, Version 2
LaLa plays Goldilocks and RoRo plays the three bears.
I hope you enjoyed our little show. And do go and visit the rest of the blogs in the tour this week. Zoe, at Playing by the Book kicked off the week with her and her girls trying out the Mitten Kitten. And Maggie at Red Ted Art tried out Olive Owl's Kite. I'm excited to see what everyone else has tried.