4 Tips to the Perfect Weekend Wardrobe
Featured post
When your work clothes have become your weekend clothes it's time to get yourself a new wardrobe! A great work/home life balance doesn't just have to come with what you do for a living but also what you wear. August can be a hard month to predict weather-wise – one minute it's pouring down and the next minute it's bright sunshine, so choosing your weekend outfit can be tricky.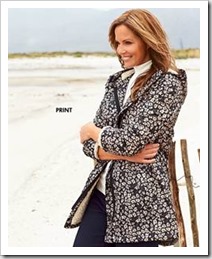 Follow these five tips to a perfect weekend wardrobe:
1) Find yourself a trusty waterproof jacket
Sometimes when you think of women's waterproof jackets you think of unattractive, frumpy anoraks (hardly a 'stylish' piece we hear you say). However something like this patterned waterproof parka from Cotton Traders which not only has a warm fleece lining but looks great thrown over a cosy knit or teamed together with jeans is a great look for this unpredictable season.
So, if you find yourself stuck in a sudden downpour you can at least look good at the same time!
2) Casual jeans for a casual weekend
If you're used to wearing smart trousers or skirts to work then wearing a pair of jeans on the weekend can be a welcome change. There are so many different styles to suit all shapes and sizes from skinny to boyfriend cut and from coloured to bootleg such as this cropped pants from Cotton Traders. Jeans are a great staple item for a weekend wardrobe as you can wear them with pretty much anything – a plain t-shirt, a patterned jumper or a flattering tunic.
Top tips: as autumn approaches invest in a pair of boots to dress up your look.
3) A knitted jumper can work wonders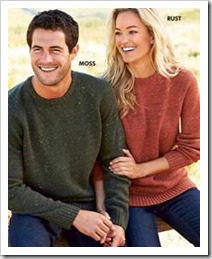 Think knitted jumpers are frumpy too? Wrong! This has been the year of the 'aran sweater' (just like those ones your grandma used to knit you!) wear it over a crisp, white shirt and team with dark blue jeans and you're already pulling off the weekend casual look. Jumpers like this one from Cotton Traders will soon be flying off the rails!
Top tip: When you're heading to the shops look beyond the fashion jumpers and find one that you know you'll be happy to wear season after season. Avoid gimmick jumpers and go for a classic.
4) Accessorise your look
You might think that a plain jumper and jeans combo might not be the most stylish of looks – but it's all about how you tie it together. Team your look with a nice handbag (and no not the one you take to work everyday), a pair of earrings or a scarf or both, but just remember less is always more.
Featured post