What to do with all the books?
Commissioned Post
I have a dilemma. It's a really difficult one. We have hundreds… OK, no, we have thousands… of books. I love having a house full of books. A house without lots of books in feels wrong to me – perhaps because I grew up in a house full of books, perhaps because reading is just amazing, perhaps because I like looking at the shelves and remembering reading this book and that book, perhaps because I'm looking forward to the girls pulling books I have loved from the shelves and getting absorbed in those worlds, perhaps because I like it when new people come round to visit or play and spend 10 minutes or so browsing through the books in the living room (I don't tend to invite them up to our bedroom and our office where there are even more). And perhaps because I think maybe, just maybe, I'll reread them.
There are lots of books I've read many times over – all of Jane Austen's books, most of the Bronte sisters' books, many Dickens and various other classics, such as Dracula, Frankenstein, The Moonstone, The Woman in White…; crime novels, especially Patricia Cornwell, Faye Kellerman, Colin Dexter and Ian Rankin; the Empire series; and a handful of contemporary novels. There are also loads that I've only read once and probably won't again, some of Chris's books that I'm not as keen on as him, and frankly there are probably a good few that neither of us has read. Whether we will or not is anyone's guess. There's also a rather silly number of computing books (though we did cull the really old software guides whose only purpose now could have been as door stops), philosophy books, history books, language books (oh and a lot of French literature) and random books on random things. Not to mention a couple of shelves of cookery books in the dining room. (And I'm not going to go into the children's books, which we do filter out now and then as they grow out of them – very glad to finally not have loads of those tiny little board books with one picture and one word per page!)
They don't all fit on the shelves as it is. We have at least a couple of teetering piles of books and each of our bedside tables overflows with books. And now I suddenly have at least a shelf's worth (and quite possibly two shelves!) of art and design books that people have been buying me because of my new-found addiction to drawing, painting and making pretty patterns (see my Behance portfolio and Illustration blog for some of these pretties). I love these books. Some are new ones I've requested (some I bought myself with birthday money), some are new ones that people have spotted and bought for me and others are treasures that people have found in charity shops and second-hand bookshops. They are currently sitting on the ottoman next to my bedside table and there are loads of them. It's a good spot to pick them up from to flick through before sleep, or while watching something. But it's definitely not a permanent home.
So I need a home for my art and design books.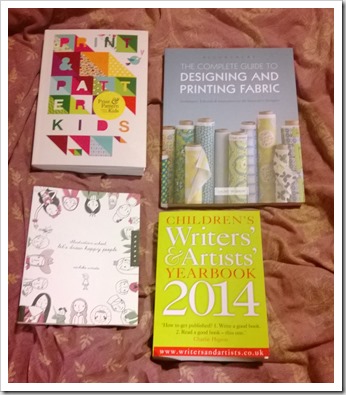 What do I do? Do I have a book declutter and give away some of those books I really am never going to read again? Do I attempt to rearrange the shelves that don't seem to fit what we had before the art and design books arrived (it might well be that they could be squeezed in somewhere)? Or do I buy a new, pretty bookcase for my pretty art and design books? I know what I'd like to do, but I'm not sure it's what I should do! What would you do?
Commissioned Post