This is a Book Week guest post for Monday's theme Stars and Stripes from Maria Wilson, another expat, who has been devouring American fiction since long before she emigrated.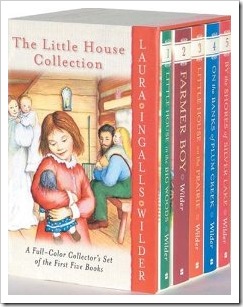 Perhaps I was destined to end up in the USA because I have always loved its fiction. My mum read the entire Little house on the Prairie series to me when I was very young, and those stories have stayed with me. I wanted my own sun bonnet to wear on the hot grasslands, and to eat freshly crystalized maple sugar candy during bitter winters. Whenever we drive through the Sierra Nevada even today I think of the pioneers in their covered wagons, of other little girls like Laura and Mary being among the first to glimpse the beauty of the western states. I went on to devour the My Friend Flicka series, captivated by the descriptions of vast vistas and wild horses, and from there tackled The Great Gatsby, and most of Steinbeck, East of Eden being my favourite.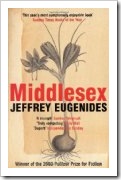 What I love best about American fiction is that expansiveness. Characters dream big, fail spectacularly, wipe themselves down and start again. Americans relate to a narrative life, so many of them start out in a very different place to where they end up. It is a shame that so many great American books get made into mediocre movies, or even into really good movies. People miss out on experiencing the books. If you haven't read them I would encourage anyone to go back and read some. Like The Bridges of Madison County, Gone with the Wind, Terms of Endearment and The Prince of Tides. Books that adjectives like "sweeping" were invented for. Another wonderful saga, for want of a better word, that is probably and fortunately too cinematically challenging is Middlesex by Jeffry Eugenides, which follows a person of ambiguous sex (an area fascinating to me as a biologist) and his/her Greek American Family.
I love the strangeness of so many American fictional characters, and no one does strange better than John Irving. For me he captures the essential bizarreness that every American, or adopted one, harbors somewhere within. We are a country of peculiar extremes. A Prayer for Owen Meany is probably the book that I like the best, but Hotel New Hampshire comes a close second. Douglas Copeland (Shampoo Planet) does a good job of capturing the dystopia of the American experience, too. Americans wonder a lot about why they aren't happy, believing somehow that happiness is a destiny that has eluded them. I like books that explore that experience.

I read to get inside other people's heads. To experience other places. Any of these books will take you to a quintessential bit of America. If you want a book that takes you to my America though, to San Francisco, then look no further than the Tales of the City Series by Armistead Maupin. They may have been written in the 1970's but San Francisco hasn't changed all that much, and its essence shines though in these stories.
Maria blogs at Geekymummy and can also be found on Twitter and Facebook. You should read her post about the Tales in the City series.