This is a Book Week book review for Wednesday's Holiday Reading theme.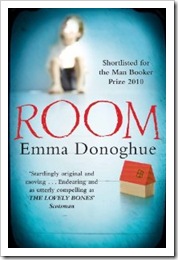 This book has the shortest blurb I think I've ever seen:
Jack is five. He lives in a single locked room with his Ma.
That is the book and those two sentences are enough to get you thinking and feeling, which is what the whole book does. You don't really need more.
It's written from Jack's point of view and this works remarkably well – perhaps made easier because Jack has a much wider vocabulary than the average five-year-old. But his voice always felt very real and not at all contrived, as can sometimes happen with an unusual point of view.
Jack lives in Room with Ma. His friends are Table, Rug, Wardrobe and Spider. Old Nick brings food and Sunday treat through Door and sometimes hurts Ma. Every evening Jack and Ma climb up to Skylight and shout as loud as they can.
This is an astounding book that you just want to keep reading. If it weren't for other commitments, I would have read it through in one sitting. It makes you think about evil and love. About what you would do for your children. About how children learn and develop and what happens when something is withdrawn. And it makes you think about the big wide world.
I would definitely recommend it, but obviously it does cover some very difficult themes. But it's life-affirming and will make you feel good, in the end. I think.