Summer Holiday Life Savers
This is a Book Week guest post from Zoe Toft of Playing by the Book.
With (UK) summer holidays just around the corner I've started thinking about how we're going to make the most my extra time with my two young girls, having lots of fun AND staying sane. One magic resource I have prepared in my box of tricks is a stack of "activity books" for the girls.
By activity books I mean those which require nothing more than a pencil case to make the most of – books full of colouring, doodling, games and sparks of imagination. And today I'm very happy to be sharing with you my selection of the very best that I know about. However, before diving into my recommendations I wanted to add a few words about activity books and why I think they are so great.
Activity books are life savers for me. I use them with the kids in two ways – sometimes I need them to do something by themselves for a while and sometimes I want an activity we can all do together which is quiet, calm and doesn't require any preparation. Activity books are perfect in both circumstances!
Many creative parents wince at the thought of their children doing colouring-in, claiming it is not creative as it's all about staying within the lines and adhering to rules, but I believe colouring really does have a role to play in the parenting toolbox. Lots of children find colouring-in calming, relaxing and absorbing – and these are certainly valuable qualities, even if you do adhere to the belief that colouring-in is not imaginative.
I'm a great believer in the natural creativity of children, but I've also witnessed how kids (and adults) can become even more creative (or creative in different ways) if they are initially given some tools and ideas to spark the imagination, a sort of framework if you will. Activity books can do this by providing simple scaffolding to activities – a spark of a sentence or a suggestion about how to approach filling in a page. Whilst I'm all for kids having plenty of opportunity to find out things themselves and come up with their own ideas, sometimes a little bit of support (for example when they are tired or simply are moaning they they are bored and have nothing to do) is just what is needed to get the juices flowing again.
Colouring-in and doodling can be great for exploring different materials, shading and developing pencil skills. Often the activity reinforces important mathematical ideas such as patterns and shape recognition and manipulation. Activity books can also be a great way of developing literacy skills. Over the summer I hope I manage to encourage my eldest to read to me but I know it might not happen. With activity books, however, kids are reading instructions and practising their literacy skills without realising it. My eldest has been happy to sit and read an activity book from cover to cover to select what she wants to do, but would probably have pulled a face had I suggested we sit together and read a book as that would have been seen as too much like homework!
So here's a selection of activity books, some of which we've loved and filled up in the past, others which are waiting secretly for the summer holidays to begin!
The Big Book of Shapes The beautiful, bold colour and design of this book make it a really treat to bring out on a rainy afternoon. It's great for a sneaky bit of learning, full of patterns and shapes, encouraging kids to make their own designs. As well as plenty of doodling and colouring in there are also cutting out projects. It's spiral bound which ensures it lies really flat on the table (making it much easier for colouring/doodling). It also means that when all the pages are full they can easily be taken out of the book and put up on the wall to create an art gallery of your kids' work (or you can pull leaves out so that multiple kids can work on different pages at the same time).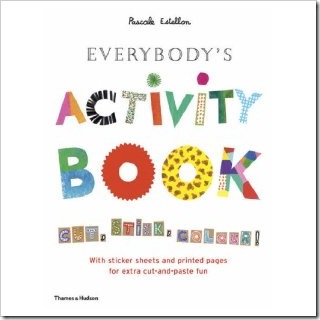 An activity book with a similar high aesthetic look and feel to it is Everybody's Activity Book: Cut, Stick, Colour!. Printed on really high quality paper packed with vibrant colours, this is perhaps a good book to pair with The Big Book of Shapes but for slightly older children. The activities are more varied and the book also includes stickers. This would make a fantastic gift!
The Scribble Book is one of M and J's very favourite activity books. It's wild and exhilarating! No neat colouring-in but rather lots of encouragement to go a little bit crazy with your drawing. It's a great book for using to explore different mediums – scribbling with pens, pencils, crayons, pastels. It's a lovely size, easily big enough for two siblings to work together on at the same time, and perfect in its subject matter for younger and older children exploring creating art together. I think this activity book would work well with both children who don't like being neat and contained, and also those kids who you might want to encourage to be a little "free-er" in their approach to creating art.
Herve Tullet (the creator of The Scribble Book) has some fantastically interactive books to his name. One I'm keeping for a special day is The Book with a Hole. This book does indeed have an enormous hole in the middle of it, and that hole creates endless creative play opportunities. It might be a magnifying glass, a roundabout or a place to put your own head so you can discover what it feels like to be eaten by a crocodile. This book might not be shelved in bookshops with activity books but we will be drawing and scribbling in it as the black and white large scale illustrations are just crying out to be embellished and brought to life by little hands.
Thomas Flintham's Marvellous Mazes is another activity book we've enjoyed. In our experience mazes require quite a lot of concentration so I don't bring these out for M when she's tired. However, I do like them for helping her practise planning ahead! When you've completed a maze it's fun to embellish them with neon markers which work really well with all the black and grey. I can imagine this might be a good book for slightly older children as the mazes and instructions are a little more complicated than in other activity books. Whilst I generally don't like recommending books for boys vs girls, I do think this book will appeal to boys with is greyscale illustrations, rockets and knights.
Writing, sending and receiving postcards has always been part of our holiday activities, whether at home or away. The Doodle Book: Postcards is a little book is made up of 66 postcards for you and your kids to pull out, embellish, decorate, doodle on, colour-in and then send to your friends and family. I've found these a great way to encourage M to practise her writing in a way that doesn't feel like homework. Whilst I would definitely recommend these (not least because they are so small they can fit easily in a handbag and so are perfect for train journeys, or when waiting somewhere), the card they are printed on is a little thin. In an ideal world I'd have had these postcards printed on much thicker stock.
Richard Scarry's Big Busy Sticker & Activity Book is a brilliant activity book! It's full of your favourite Richard Scarry characters and really varied in the different activities included – mazes, word searches, find the difference, colouring-in, and (you're kids will love you for this)… stickers! I didn't really want to give M this – I wanted to keep it for myself! The only slight issue is that the spellings in this book are American ("color", "ax") and this was initially a little confusing for M.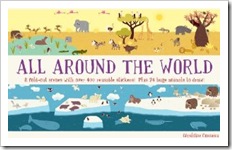 Stickers are a fab way of keeping kids happily occupied. Peeling and sticking them is great for fine motor skill development and there are few things which will diffuse a grumpy moment in our house as well as the offer of some stickers. That's why one of the activity books I'm saving for the summer is All Around the World All Around the World. This book has a Mouk style feel about it, with pull out geographical tableaux and plenty of stickers, plus matching animals to colour and decorate. I'm looking forward to seeing the kids' faces when this one comes out from the secret stores!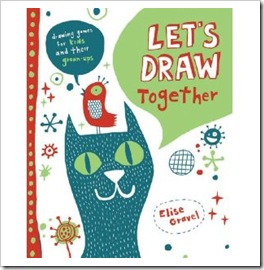 Many of the books I've included today are great for kids to enjoy on their own, but Let's Draw and Doodle Together is specifically designed for collaborative play and art. Packed with drawing activities "for kids and grown-ups to do together" I think it will also work well for siblings to do together. The book is large enough to have two people working on it at the same time, and its spiral binding once again makes it easy to lay the book really flat. Of course any of the books I've talked about today are great for sitting down together with your children, but I do like how this one specifically encourages us to play and draw together.
Two activity books I've got stashed away which I'm hoping will specifically encourage some literacy skills during the holidays, as well as being fun, are Alphabeasties Amazing Activities and Comics to Go: We Start and You Finish.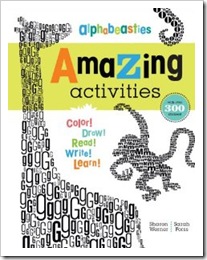 Alphabeasties Amazing Activities all revolve around letters and typefaces. The book is a gorgeous thing to look at (and I'm a great believer that giving kids lovely things encourages more loveliness in them and their creations). At first glance it might appear slightly mis-marketed – the activities, such as word searches, mazes and dot-to-dots are aimed at 6+ year olds who may be "beyond" simple letter recognition, but actually this book is great for all sorts of fun writing and reading games that I think would be perfect for 6/7/8 year olds such as playing with alliteration and even writing poetry.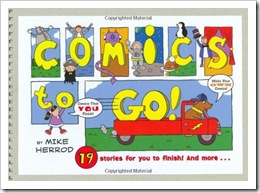 Comics to Go contains the start of 19 comic strips and then panels for you to complete. There are plenty of opportunities for colouring-in, doodling and storytelling, as well as sneaking in lots of reading along the way. I can imagine this being particularly popular with boys and reluctant readers.
Whilst some of the books today could work well with preschool children (e.g. those with stickers, and The Scribble Book), I'd suggest most of them are great for primary school aged children. If you're looking for activity books which might be enjoyed by slightly older children I think How to Be the Best Bubble Writer in the World Ever! and Wreck This Journal: To Create is to Destroy are ones to consider. The former is full of ideas for creating stylish fonts and playing with letters. I can easily imagine pre-teens enjoying trying these out on their diaries and notes to friends. The latter has proved immensely popular with adults wanting to reconnect with their creative sides and includes suggestions such as scratching a page in the journal with a sharp object, climbing up high to drop the journal and documenting a boring event in detail. The instructions are simple enough for a primary school child to interpret and enjoy but the look and feel of this book clearly suggest it's aimed at teenagers and upwards.
In today's day and age I feel I have to comment on the cost of these books – they are not cheap. But I do think they offer value for money given the number of hours of play and creativity that can spring from them, and at least as importantly the number of stress-reduced hours for parents and carers! If they're not something you would choose for your own kids why not consider them as wonderful, slightly unusual presents; they are more creative than another plastic toy from china and not quite as "worthy" as a storybook.
Treat you and your kids to one or two of these gorgeous books, and have fun making sure your and their pencil cases are well stocked – I'm confident you'll be glad you did!
Zoe writes at Playing by the book where she reviews fantastic kids' books and describes the crazy, fun stuff they inspire her family to get up to. To celebrate Book Week and activity books in particular she's got a fabulous giveaway on her blog today – a set of art materials, from Derwent Pencils, that would be perfect for using to have fun with any of the books she's mentioned today. Head on over there and try your luck – you just need to leave a friendly comment to be in with a chance of winning.