Blog tour: I Want My Hat Back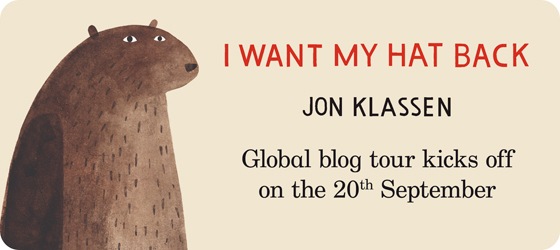 Welcome to the 6th stop on the Global Blog Tour celebrating the publication of a beautiful new picture book I Want My Hat Back, by Jon Klassen. We were lucky enough to receive an advance copy of the book and first impressions were 'Oh, that's lovely' – and that was just about the binding and the paper. The illustrations are stunning in their simplicity. And the story is fun. The girls both enjoyed the book, with Eleanor giggling most of the way through and Rosemary responding with 'Huh?' at the end. On further discussion, she decided that the ending was a 'bit odd, but it was funny'.
Book trailer
Here's a book trailer to give you more of an idea:
I had some questions for Jon Klassen about the book and his career.
Questions on the book
The book has quite a surprise ending. Did you set out to have a shocking ending or did it just come out that way?
The ending just sort of came out that way. I hope it doesn't come off too much as a shock for shock's sake, because it really does make sense to me in the story. The best thing I've heard from a kid who read it was when he was asked if maybe it should've ended in a gentler way, and he said "No, that's what HAD to happen.". I really like that a lot.
Following on from that, a lot of modern children's books set out to show goodness and morality as to be rewarded and tend to avoid unhappy or frightening endings. Did you set out to go against this trend?
I didn't set out to react against anything, but I don't enjoy stories that feel like they were built around a lesson or a moral as much as stories that feel like they found one on their own.
How long did it take you to write and draw the book?
The writing was quick, but it's hard to say how long it really took because I was thinking about it for a little while before. The illustrations took a few months. There was a little bit of experimenting to see what kind of technique would look best. It was a pretty smooth project, all in all, though.
Do you intend a deeper philosophical (or other) message in the book?
I think I like it better as just a story by itself. The only larger thing I can think of came up in the illustrating of it, when it was time to draw the rabbit at the end. I decided not to give him any clear visible reaction to being found out or to what was about to happen to him. I didn't want to make the rabbit "evil", I wanted to make him indifferent. I think that indifference can feel more dangerous than someone who is going out of their way to be bad.
Can you tell us a bit about your drawing process for this book (for example, do you start with sketches or jump straight in, do you use a computer at all)?
I started with sketches after the text was written. The sketches were digital, partly because it was easier to show the detail of the dialog changing color for the different characters who were talking, and partly because I'm just used to working digitally and it's easier to make changes. There is actually a lot of digital work involved in the finals, too. The artwork was done with black ink, and then colored and modified a lot digitally. Most of the characters' eyes and noses are all digital. They were mostly just grey silhouettes before being brought into the computer.
Questions about Jon Klassen's work in general
Did you study illustration or are you self-taught?
I studied animation at school, so there was a lot of drawing involved. Also, animation involves a lot of sequential story stuff, and that helps a lot in book work.
Do you prefer drawing your own ideas, like I Want my Hat Back, or working to commission?
I think I probably enjoyed this project the most out of the book projects I've done, because I'd never gotten to do one on my own before. But working on your own thing by yourself can be very hard. Working with other people has a lot of advantages. It helps you surprise yourself and end up with something different, and it helps keep you sane. When it's just you, there's always a little bit of terror that you've had too much time on your own with it and it's not going to make any sense to anybody who wasn't with you at 4am that one night when you thought you finally solved it.
What has been the commission you've enjoyed working on the most?
I have to take what is going to look like the easy way out and say they've all been so different from each other that there really isn't a way to rate them like that. There's two commissioned books coming out early next year after this one, and they both had such different but satisfying problems to solve, and I was honored to get to be the one to do it.
Do you have any advice for aspiring illustrators reading this post?
Just to work on what you're interested in. Even if you have to dig for it in a job that might not appear to have that, initially. I think so much what is special about this kind of work is that it really does encourage you to find things that matter to you inside topics and stories that, when they arrive at your desk, can seem very broad. It really is the best job ever.
You can pre-order the book at Amazon and it will be published on 6 October and should be available in your local bookstore.
Win a signed copy of I Want My Hat Back by Jon Klassen
Or, if you'd like to win a signed copy, leave a comment below, telling me what your favourite children's picture book is. I'll pick a winner on Sunday 2 October, so you have until midnight (GMT) on Saturday 1 October to leave your comment.
Follow the rest of the blog tour
Read the first five stops on the tour, at Playing by the book, Kids' Book Capers, Not Just for Kids, Bringing up Charlie and My Book Corner. Then visit the remaining four over the next few days: Pickle Me This, There's a Book, My Little Bookcase and Chris Rettstatt.
This has been a Sunday Reading post.