Finally: a shaving system that actually works for me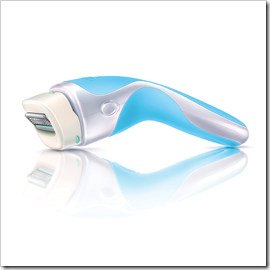 Before I go any further, this is not a sponsored post. I just have to share this with you – crazy though that might seem.
I have been struggling with shaving my legs for many, many years. Ever since the first time I tried…
My mum and dad and I were visiting a friend one weekend and I went to the loo. For some inexplicable reason (possibly down to my mum's constant warnings that the minute I started to shave I would never be able to stop and I would have incredibly hairy legs, or possibly just out of the kind of curiosity you have when you've just started secondary school and so much in the world is new again) I thought I would use this friend's razor to try to shave my legs. Only, like my dad, he had one of those old-fashioned razors that you fit with individual blades yourself. And I could only find a blade. I figured it couldn't be that difficult and tried to use this bare razor blade to take some hairs off my calves. Oh, boy, that was stupid. Beyond stupid. Of course, I cut a great big bloody chunk out of my leg and was spurting blood everywhere. I got a whole load of toilet roll and wrapped it round my leg like a bandage, with extra bits where the cut was and then manoeuvred myself back into my skinny jeans. Ow! And then I mopped up the blood in the bathroom and went back into the living room and pretended not to be in pain. I had a huge blood stain on my jeans. How no-one noticed, I don't know.
I do have extremely hairy legs, as it turns out. I don't know whether that was down to this early foray into shaving or whether it was just genetic – I think the latter is most probable. And I have a hideous time getting rid of the hair. Waxing and epilating and the like don't work very well, because it grows back at different rates and I usually have some stubble within a few hours, let alone a day. With shaving, I've always had the problem where I have to it every day or once a week, because the stubble between one day and one week is of the consistency that it pulls the pores up and means that I end up in a similar situation to that first attempt – pouring with blood. Whether I do it in the bath, in the shower, with shower gel, cream, soap or nothing. And it's a real bugger to shave with shower gel and stuff when there are children in the shower with you, as happens far far far too often. They want to play with the shower gel. They want to play with the razor – I don't particularly want them to dive into the depilatory pool as young as I did, let alone five years earlier. And you always end up having to get out with only one leg – or even half a leg – shaved, to wipe soapy eyes, put a child on the potty, empty the bath of poo or some equally fun task.
At least, until I discovered Wilkinson Sword's new Intuition Sensitive razor. It has a built-in block of moisturising soap, which lathers your skin before shaving it and moisturises it afterwards. It also has three blades. It shaves so smoothly that it feels like you're just running your hand up and down your leg. I have not had any bleeding, whatsoever – which is pretty much unheard of for me. Not even when it was cold and my pores did stand up – normally something that would result in at least one or two cuts. And, most importantly of all, I've been able to shave after one day, two days, three days, or four. Not that I've wanted to leave it for that long, because it's so easy and so smooth and so painless that, for the first time ever, I am actually inclined to have smooth legs all the time. You get three blades in each refill pack and one blade is lasting me three or four shaves (something else new – one and a half shaves was usually my limit). Oh yes, and I can use it when there's a child, or even two, in the shower with me. Because I'm not lathering up with shaving foam or gel, they don't notice. And it's quick, so they don't notice.
Anyway, sorry for this rather odd interruption to normal service, but I just had to share this with you, just in case there are other people like me, who have such ridiculous problems with shaving. Try it. I don't think it's for everyone, but it's most certainly for me.
Can I repeat that this really isn't a sponsored post in any form whatsoever. I decided to try the razor out myself and went into Boots (or maybe it was Wilkinson's?) and bought one. I've paid for every blade (or whatever the replacements are called) myself. No-one has paid me to write this, nor has anyone sent me samples to try.
What shaving (or other depilatory) system do you use, or do you not shave your legs? Have you had any problems? Have you tried the Wilkinson Sword Intuition Sensitive razor or any of the other similar new soap-surrounded razors and, if so, what do you think? Or could you not give a toss about leg shaving and are going to run away and hide under your covers until something sensible like Sunday Reading comes along?