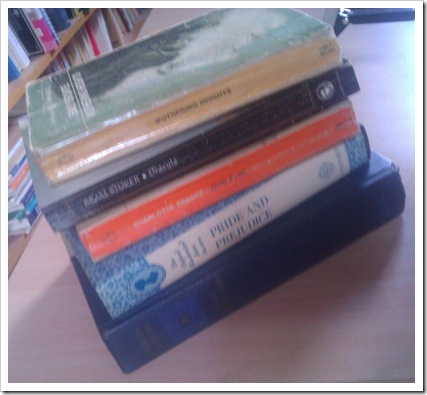 I was surprised last week, when the film came out, to discover just how many people hadn't read Jane Eyre. And then I was chatting to a friend about how she really hated Pride and Prejudice because she studied it too much. And it struck me that there are lots of classics out there that we are put off from through over-analysis (or less than brilliant teaching) at school as well as others that we have never tried – or maybe even never heard of.
These days, if you have a Kindle (or even just a PC or smartphone, as you can you can use the Kindle store without an actual Kindle, and there are other sources of eBooks, too) you have the opportunity to reread, or discover for the first time, some wonderful literature. For free. And if, (like me) you still prefer your books on paper with pages that turn, there are cheap new editions available, or second-hand bookshops and charity shops, where you can pick up well-read editions (I love second-hand books, especially ones that feel like they've been read by many, many eyes – sometimes you can sense the previous readers while turning the pages; sometimes they've left their mark in a pencilled note in the margin, or a turned-down page) in exchange for pocket change.
I thought I'd share my favourites with you, in the hope that it might inspire you to rekindle (ah, got it!) your much-loved titles, or discover some new ones. I'd love to hear your favourites, too. You can get all these titles and more free from Amazon's Kindle store, most are also available in Penguin Classics or Wordsworth Classics and you can also get most of them from Project Gutenberg too (they were digitising books a long time before Google and Amazon and their founder Michael S Hart sadly passed away this month). For the most part, I've written a brief and fairly general review, so as not to spoil your reading if you've never read the book before (though these are all very well-known titles and you probably know the plots already). I've also tried to pick a modern author or book with similar characteristics or style, to help you decide if you might like it.
Jane Eyre, by Charlotte Brontë
Jane Eyre is a story of loneliness, independence, strangeness, loyalty, madness, fear and love – the love of friends, as well as the all-encompassing romantic love. It is about standing up for your principles, even when doing so will cause you pain. It's full of atmosphere and suspense and is a perfect read for crisp, cool autumn evenings, curled up in front of a log fire with a hot cup of tea and warm crumpets (OK. I'm off…)
If you enjoy a twisty romantic thriller (such as The Poison Tree, or perhaps Tami Hoag), then try Jane Eyre.
Wuthering Heights, by Emily Brontë
Written by one of the other Brontë sisters (there were three in total – the other was Anne), Wuthering Heights is another book brimming with atmosphere and suspense. While Jane Eyre is quite dark, Wuthering Heights is positively black. Jane Eyre feels like a ghost story inside a romance where Wuthering Heights feels like a romance inside a ghost story. The setting of the Yorkshire Moors is so perfectly depicted that I feel I have lived there, despite never having visited. This is a book for winter nights in bed, where you can hide under the covers when you get too scared.
If you like Stephen King, then this might appeal.
Other books by the Brontë sisters are Shirley, Vilette and The Professor by Charlotte and Agnes Grey and The Tenant of Wildfell Hall by Anne, as well as juvenilia and poetry by all three.
Pride and Prejudice, by Jane Austen
I am a very big Jane Austen fan and have been since my school days. I love all her books for their window into early nineteenth century life (among the landed gentry, that is) and her gentle sarcasm and moral and social commentary. And the romance is rather nice, too. Where the Brontës' stories are dark and atmospheric, Austen's are light and energetic. They are all romances, but Pride and Prejudice is my favourite, probably because of the heroine, Elizabeth Bennet, who speaks her mind and is not prepared to bow down to what is expected of her (to marry where most sensible, rather than for love; to not contemplate friendship or romance with those above her station; to not accept insult). The hero, Darcy, is also very appealing and well drawn, with his unwillingness to turn on the charm for all and sundry and closed nature that opens up for those he really cares about. Pride and Prejudice also has its share of scandal and excitement. This is an airy spring or summer's read that will keep you in high spirits (or perhaps raise them if read in autumn or winter).
The original chick lit. If you enjoy Jane Green, Katie Fforde or Jill Mansell, you really should love Jane Austen.
Other books by Jane Austen are Sense and Sensibility, Pride and Prejudice, Mansfield Park, Emma, Northanger Abbey and Persuasion, as well as juvenilia.
Great Expectations, by Charles Dickens
Another orphan, Pip's life story (from rags to riches, for the most part) is laid out in Dickens' Great Expectations, from frightening encounters with escaped convicts to burning mansion houses and a long-lived flame for the unattainable and haughty Estella. Dickens documents the minutiae of life with finesse, finding the comedy in the everyday. The theme of crime plays a large part in the novel, as does that of social climbing.
If you like Alexander McCall Smith you'll like Dickens.
There are many novels by Charles Dickens to try out if you enjoy Great Expectations. Some of my favourites are Nicholas Nicklebey, Hard Times, Oliver Twist and A Christmas Carol.
The Woman in White, by Wilkie Collins
The Woman in White is a mystery and thriller that keeps you tense and wondering throughout the book. It also has elements of ghost story and romance. Like Jane Eyre's Thornfield Hall, Blackwater Park is a mansion house that evokes fear and darkness – rather than the comfort of Pride and Prejudice's Longbourne and sumptuousness of Pemberley. It is an epistolary novel, written from various different viewpoints, allowing insights into the different characters, but also denying us insights into critical moments, so increasing the tension and anticipation.
If you like Tess Gerritsen and ValMcDermid, you should try The Woman in White.
Wilkie Collins wrote many many novels, but some of the more popular titles include The Moonstone, Armadale and No Name.
Dracula, by Bram Stoker
The original vampire novel, Dracula has similar elements of mystery and narrative (it's also an epistolary novel) to The Woman in White. It places you in the unknown and wild Transylvania, with dark castles and wolves. But probably the most frightening bits are on our home turf, in the seaside town of Whitby.
If you like Stephen King, you should try Dracula. And if you like the Twilight saga, you should definitely read Dracula, to be reminded of quite how evil vampires really are!
I hope you've enjoyed this post and its inspired you to go out and reread some classics, or look for some in the charity shops or on Kindle. There are fabulous new books being published every day, but it's still easy to forget how much powerful and entertaining literature already exists. Please do tell me your favourite classics, so I can go and download them unit I have enough money to buy them from the RSPCA shop.
This is a post for Sunday Reading (see the post with some details in it last week).