Vegetarian Christmas Dinner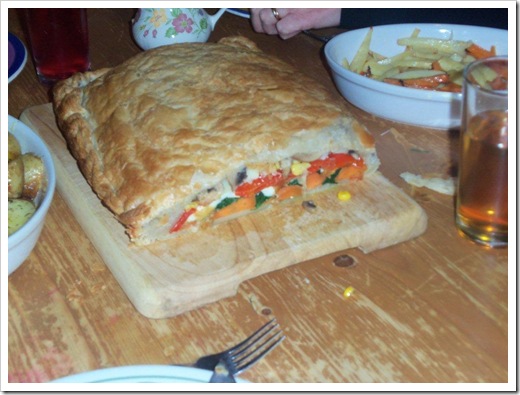 One of the first questions people ask me when they find out I'm vegetarian is 'But what do you eat for Christmas dinner?' And the answer to that is along the lines of 'Anything I want to'. To be honest, I think being vegetarian actually opens you up to more adventurous meals – the everyday ones as well as the special ones. It's quite easy to come up with seven varieties of meat (or maybe fish) and two veg to get you through a week, whereas it's less so to do the same without the meat (and fish – let's get something straight right away: if you eat fish, you are not vegetarian). These days, you can probably manage it with a variety of Quorn products or vegetable burgers, but for the most part, if you're vegetarian you're still more likely to be preparing and cooking your own food (yes, I know there are plenty of exceptions).
It's easy, too, to fall into a tradition of what to eat for Christmas dinner – and, actually, that's not exclusive to meat eaters. So many people seem to have roast turkey (and all the trimmings) or roast chicken (and all the trimmings), with the odd leg of pork thrown in. We always used to have a mushroom and nut wellington. My aunt's family usually have a sweetcorn, potato and cheese pie. And we all still have these with all the trimmings. Christmas dinner really isn't the same without roast potatoes, is it?
I try to do something different each year – both for the big meal at our house every other year (where I'm cooking for my folks who are vegetarian) and when I'm up in Scotland with Chris's family, where I'm the only vegetarian (though it's always important to make extra, because everyone wants a taste of whatever I do) – oh, and we usually have a second Christmas on New Year for my folks on the years we're in Scotland. But I do really only ring the changes with the centrepiece. I still do (or share) roast potatoes, Brussels sprouts, carrots and parsnips. Sometimes I have a traditional (but veggie) gravy and sometimes a different sauce, such as cream of red pepper sauce, or cream of asparagus.
Here are some of the centrepieces I've made over the years. The majority of them are wellingtons of some kind (that is, something rolled up in puff pastry), though there is an occasional meander of this path.
Mediterranean Wellington
Halloumi surrounded by couscous and wrapped in roasted Mediterranean vegetables (courgette, aubergine, pepper), all wrapped in puff pastry – looks beautiful when sliced (which is one of the main things to look for in a vegetarian centrepiece, in my opinion). (Make it vegan by leaving the haloumi out – you could replace it with some vegan cheese, but I don't think that would be necessary. Or some tofu might work nicely.)
Nutty mushroom and sausage wellington (vegan)
This one is closer to the one we had when I was little. Large Sosmix (vegetarian sausage mix that you can get from most healthfood shops and a lot of supermarkets) sausage in the middle, either with stuffing inside or wrapping it, wrapped in fried garlic mushrooms and then coated in crushed nuts. Again, the whole thing is wrapped in puff pastry.
Egg and vegetable wellington
This is what I did last year for Christmas Number Two. Different vegetables cooked in different ways and spread on puff pastry in separate layers, include a couple of layers of egg. Vegetable layers can include honey-roasted carrots, spinach and ricotta (or goats cheese), garlic mushroom, olive oil and olives with courgette, sweet peppers and butter… or anything you or your family particularly likes. Bright coloured vegetables make this one look particularly spectacular. (Leave out the egg and swap the butter for marge or olive oil, and you have a vegan version.)
Here's a recipe for a version of this.
Roulades of courgette and goats cheese and sweet potato and red pepper
Make roulades with pureed vegetables and egg white spread out in a Swiss roll tin and baked for about 20 minutes on a low heat. When they've cooled roll them up with a filling – goats cheese and rocket, red pepper and cream cheese, avocado and chilli… whatever you fancy and will go well with the matching roulade. Once prepared I then sprinkle with some parmesan and sesame seeds and reheat for maybe 15-20 minutes. You then serve a thick slice of each to everyone. They look pretty stunning.
Puff pastry pasta cake
Make a cheese pasta – with macaroni or smaller pasta. Roast some vegetables – could be seasonal ones, such as carrot, swede, butternut squash, etc. or Mediterranean, such as courgettes, peppers and aubergine. Put a large circle of puff pastry on a baking tray. Put a layer of the pasta at the bottom in a circle (leave a really good amount around the edges – maybe 10 centimetres), then add the vegetables in layers. Top with the pasta, and then try to spread the pasta around the edges too, so that the vegetables are completely surrounded. Put a smaller circle of puff pastry on the top and then fold up the edges and seal round the edges. Bake for around 35-40 minutes on a medium heat. Serve like slices of cake. (You can do the same but wrap it in roasted aubergine slices, too, rather than puff pastry.)
I'd serve all these with the usual Christmas Day trimmings – roast potatoes and parsnips, with carrots and Brussels sprouts. I'd serve the sausage and egg wellingtons with a traditional gravy (I make mine with a stock of marmite, Kallo veg cubes and a bit of tomato puree and then thicken it with cornflour and water mix). I'd serve the Mediterranean wellington and the roulades with a cream and red pepper (pureed) sauce, and the pasta cake with a tomato and courgette (pureed) sauce.
I should really try to ring the changes a bit with dessert too, though. I've served up Delia's chocolate roulade for the past few years (with a Chantilly and preserve filling, rather than her chocolate mousse). I did make a very nice one many years back, which was individual panetone bread and butter cheesecakes – panetone and butter base, topped with mascarpone and sugar cream and finished off with a berry puree of raspberries and strawberries.
I hope this is of some use to anyone trying to come up with something to cook for a visiting vegetarian, for any vegetarians looking for something new to cook – or maybe even to some meat-eaters who would like an extra centrepiece to accompany the goose or fatted calf.
If you are cooking for vegetarians, take note that a lot of us will not eat roast potatoes and vegetables cooked in the same oven as the turkey (or whatever you're having). Chris's parents have a double oven, so when I'm coming to stay the veg gets cooked in the little oven, but before they had their new kitchen I got sauteed potatoes instead (par-boiled then deep fried). You could also roast some in advance and then just give them a quick zap in the microwave.
Whatever you do, do not serve a vegetarian roast potatoes cooked in goose fat – they might be the most delicious thing ever (so I've heard, anyway), but they are most certainly not vegetarian. (And while we're on the tips for cooking for vegetarians, don't ever use chicken or other meat or fish stock – there are plenty of vegetable stock cubes available, these days (Oxo vegetable stock cubes aren't very nice, but Kallo are fantastic – just my opinion). A lot of vegetarians also want to have vegetarian cheese (made with vegetable or synthetic rennet, rather than the cow-derived stuff), watch out for jelly which often contains gelatine (try agar agar flakes or there are quite a lot of veggie jelly mixes available these days) and check the ingredients on sauces, sweets and even cakes and any ready meals. If you see the words 'suitable for vegetarians' you should be OK, especially on pre-packaged food.
If you're feeding a vegan, please be extra careful. Honey is not vegan. Eggs and dairy are not vegan. You should also be very careful about cooking utensils and serving dishes (though you should be if you're feeding vegetarians, too!).
If you're vegetarian or regularly feed vegetarians for Christmas, I'd love to hear what you have made or are making this year.
And I hope you have a lovely Christmas Meal, whether it's vegetarian or not.
EDITED TO ADD: This post is getting a lot of visits from people searching for something to cook for vegetarians and vegans for Christmas. I've added some notes on a couple of the ideas for how to make them vegan. If you want me to do a separate post of any of the recipes in full, leave a comment, and I'll try to do so before Monday 19 December, so you have time to plan your shopping.