The Year 1 Phonics Screening Check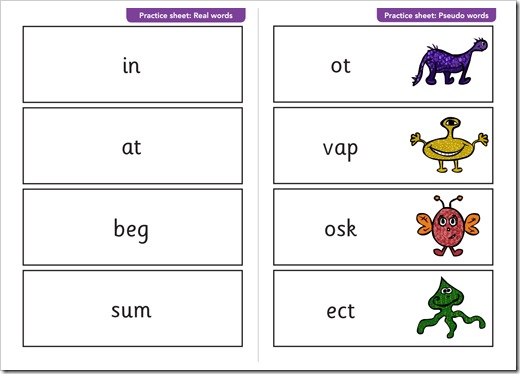 As you are probably aware, the government has introduced the new Year 1 Phonics Screening Check which comes into play this June for all children in Year 1, after a one-year pilot. Children will have to read 40 words with their teacher, which will be a mix of real words and nonsense words that are made up of letters and sounds that are part of the phonics route of teaching reading. It is not compulsory to teach reading using synthetic phonics, though a lot of schools do.
I am not a teacher, but I do have a daughter in Year 1 and have seen the range of reading skills that her classmates show. They used phonics to teach reading in Reception and they still use phonics, along with other methods, to teach reading in Year 1. RoRo is reading books at Stage 5 in the Oxford Reading Tree (and the equivalent in other schemes). The vast majority of her reading is now recognising whole words that she knows already, in addition to this, she uses context to work out what words she doesn't know say – sometimes she still decodes, but for the most part, she'll do something like look at the first few letters of a word and the last few, look at the length of the word and look at the picture and the words around it, to work out what the word is – from meaning. Decoding now forms a miniscule part of her reading process. And, from what I've seen, this is the same for a lot of her classmates. There are, of course, still some who are using decoding the bulk of the time, but not very many. And there are others who are further ahead and almost never use decoding – recognising the majority of words, and working others out from context.
Phonics worked wonderfully as a teaching tool for most of RoRo's classmates, but the teachers have always shown adaptability and have helped the children to use different methods. One of the most important things has been the use of story books and non-fiction books that engage the children and help them pick up words and reading in general because they want to know what is happening, or find out more about something. We love phonics and I have already started introducing some letters and sounds to Eleanor – very gently, of course, and with no pressure (I'm not a Tiger Mum!) But I would never, ever, ever, try to get them to read nonsense words to practise the letters and sounds. The point of phonics is to help children learn to read. The point of phonics is not to teach them to excel at reading a large number of letters and sounds but never be able to translate that into actual reading.
The government claims that the point of the Phonics Screening Test is to "identify the children who need extra help so they are given support by their school to improve their reading skills". But… do you know what? That's what teachers do already. Year 1 teachers and teaching assistants work with children according to their ability and needs in learning to read. They will do things like guided reading in groups, individual reading with teachers, teaching assistants and parent volunteers. And they will help those children who are struggling, using the most appropriate methods for them. They don't need a 40-word check to tell them who needs help. What they could probably do with is some extra money to give those children who do need extra help a bit more one-to-one help.
What they definitely don't need is a bunch of children getting stressed out about taking a test at the age of five or six. They don't need a bunch of children getting thoroughly confused about having to read nonsense words when what they really want to do is read about Floppy and Kipper's latest adventures with the magic key. They don't need a week off timetable to fit in testing all their children themselves. And they don't need the extra stress themselves of administering a test.
If we lived in Spain, then the Phonics Screening Test could well make sense, because Spanish is spelt phonetically. English is not spelt phonetically. Some of it is, yes, but most of it isn't. There are plenty of letter groups that have different sounds in different words, there are plenty of sounds that are spelt in a huge variety of ways. You learn to read 'bough', you'd expect to then be able to read 'tough', but no that has a different sound and then again you have 'through'. To, too and two sound the same but look very different.
In the one year pilot, only 32% of six-year-olds who took the test reached the expected level. Is this because they couldn't read? No, it's because most of them could read well and taking a step back to decoding nonsense words and reading a list of words instead of a story, is not at all helpful or indicative of actual reading levels. The government's explanation was that "pilot schools were only given details of the content and structure of the screening check shortly before the check took place". Which essentially translates as "they were actually testing they could read the words, when they should have been testing that they could do a test in a specific way and specific format". If they'd had a whole year to teach these children how to decode nonsense words and read a list of words instead of a book, they'd have passed the test. They might not actually be able to read books to the level they would if they'd been learning to read, of course, but that's OK, because the government will be able to tick a box, which is what matters, isn't it?
Hopefully, the test (or 'check' as it's been called) can be administered without too much disruption. Hopefully, it won't give children a knock-back in their progress at learning to read (whether through insisting on testing recognition of phonics letter groups rather than actual words, or through making confident readers feel like failures because they can't decode a nonsense word. And hopefully this test, which is as nonsensical as some of the 'words' it tests, will be scrapped very soon.
Edited to add: There's an interesting response to the Phonics Test consultation from the Association of Teachers and Lecturers (PDF).
If you're worried about the test at all and would like to help your child prepare for it without adversely affecting their actual progress in learning to read, Oxford University Press has brought out My Phonics Kit, which is based on the Oxford Reading Tree and treats the nonsense words as 'alien words'. We've received a copy to review, and we'll be giving our verdict next Sunday (My Phonics Kit review is now live), but on a first quick flick through, it looks like they've done an excellent job at providing a comfortable introduction and practise for this test.
What do you think about the new Phonics Screening Test? Are your children going to be taking it this year? Do you think it will confuse them? Are you going to help prepare them for it at home, or let the school prepare them as they want to?