Courgette and aubergine pancake lasagne
This is inspired by Priya's Courgette Lasagne with Fresh Buckwheat Pasta, which is itself delicious.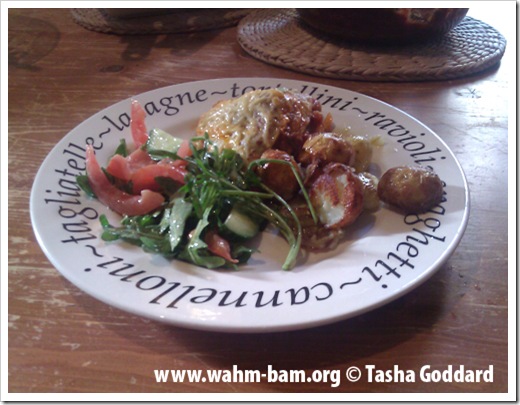 I made a couple of versions of Priya's lasagne – one with buckwheat pasta and one with a barley and quinoa flour pasta. I preferred the latter one, though that may have been because I pre-cooked the pasta (my pasta comes out quite thick and can be a little too chewy, otherwise). But then it crossed my mind that it could be done as a pancake cake instead, which would give thinner layers and mean I wouldn't have to do lots of patchwork fixing of pasta – plus, I'm a whizz at pancakes and not very good at pasta! It turned out even more delicious than the originals (my versions, at least). I also added aubergine to the tomato sauce because courgette and aubergine go really well together and because the aubergine gives the sauce a lovely thick texture.
It does take a while to make – probably a couple of hours in total – but it really, really is worth it.
Ingredients
For the pancakes
Note: this should make a few extra pancakes, to make up for potential mistakes or, if there are none, to fill with chopped strawberries and chocolate spread for dessert. In theory, you should be able to halve the quantities, but I find that doesn't seem to work and this is the optimum amounts for everything.
250g buckwheat flour
50g quinoa flour
salt
2 eggs
1–2 pints milk
For the aubergine and tomato filling
1 large aubergine
table salt
1 onion
1 tbsp olive oil
1 tube tomato puree
2 tbsp water
400g tin chopped tomatoes
For the creamy courgette filling
2 onions
½ tbsp olive oil
2 large courgettes
250g mascarpone
50g Parmesan (or vegetarian alternative – Bookhams sell one online)
To top
50g grated cheddar
Method
Pancakes
Note: If you have your own method for making pancakes, do use it – this is my way, but it doesn't necessary mean it will work for you!
In a large bowl, place the flours and salt.
Mix well.
Make a hole in the middle.
Crack the eggs into the hole.
Using a wooden spoon, mix (quite hard) the egg and flour mixture together, gradually (i.e. you're taking bits of flour from around the hole and gradually mixing it into the egg).
As the mixture gets thicker, gradually add milk, while continuing to mix hard.
Keep adding milk until you've combined all the flour and you have a fairly thin batter – probably about twice as thick as milk, and a lot thinner than cake batter.
Using kitchen towel, wipe a small amount of rapeseed oil around a medium non-stick frying pan (I find they work better than large or small ones) and place on a medium to high heat for about 2 minutes.
Take about a ladle-full of batter and pour it into the centre of the pan, then tilt the frying pan round until the whole of the frying pan base (not the sides) is coated – if there's still liquid batter, keep tilting round to make a consistent coating.
Cook until the edges look like they're curling slightly.
Using a (non-stick) fish slice, gently lift the edges to check they come away easily.
Shake the pan gently to loosen the pancake from the pan and then toss. (You can also just flip the pancake using the fish slice, I you're not confident at tossing pancakes.)
Cook briefly on the other side, then toss or flip again to check it's browned.
When it's browned on both sides, place it on a plate.
Re-oil the pan, and repeat, until you've made all your pancakes.
Aubergine and tomato filling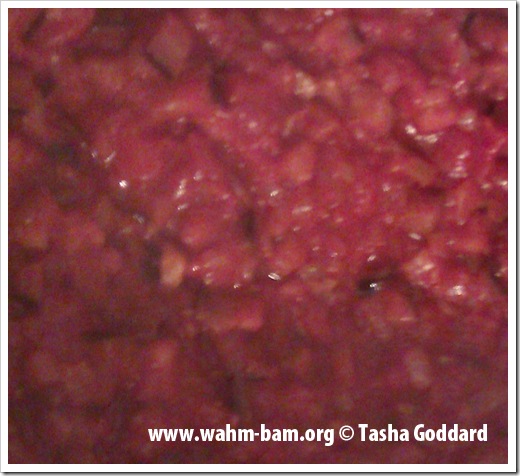 Finely dice the aubergine.
Place it in a colander over a bowl.
Cover in table salt and leave for half an hour (or while you make the rest of the sauce).
Peel and finely dice the onion, then soften in olive oil on a low heat.
Add the tomato puree and water and stir on a low heat for 5 minutes.
Add the tin of tomatoes and simmer for 15 minutes.
Rinse and pat dry the aubergine.
Add to the tomato sauce and cook for a further 10 minutes.
Creamy courgette filling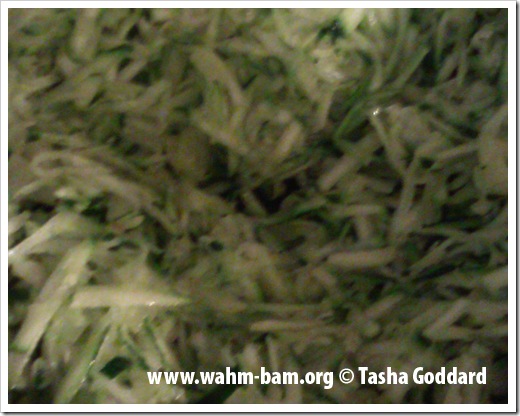 Peel and finely dice the onions then soften them in the olive oil on a low heat.
Meanwhile, grate the courgette.
Add the courgette to the onion and cook on a low heat for 10–15 minutes.
Turn the heat off and stir in the mascarpone and the cheese.
Put them together
Choose a round casserole dish that has a lid – we have a Pyrex one, which means you can see the finished dish through it, but a cast iron one would work fine, too – and find a bowl with a rim of about the same size. Cut down your pancakes so they will fit nicely in the dish.
Place one layer of tomato, a pancake, a layer of courgette, a pancake… etc. until you run out of either mixture or space (probably the latter).
Top with grated cheese.
Cover with the lid and cook in the oven at about 180°C/350°F/gas mark 4 for about 20 minutes.
Remove the lid and turn the oven up and cook for a further 10 minutes. (Or you could grill it instead for maybe 5 minutes.)
Serving
Serve with roasted new potatoes (cut new potatoes in half or quarters, depending on size; place in a roasting tin with 2 tbsp olive oil and liberal sprinklings of sea salt) and a plain fresh salad (leaves, cucumber and tomato). (And a glass of red wine will go down nicely.)
Adaptations
You can use ordinary wheat pancakes, though the buckwheat ones are particularly light.
You could use different fillings – whatever fillings you use for your normal lasagne, for example – though I think this combination works especially well. In autumn, perhaps you could try roasted butternut squash for one layer and spinach and feta for another.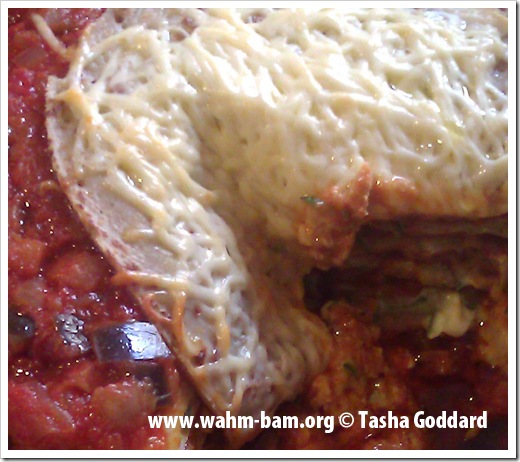 This is seriously delicious stuff. Just writing the recipe and seeing the pictures has my mouth watering and I think I may just have to cook it again, tomorrow.