This is a Halloween Book Week guest post from Adele of Circus Queen.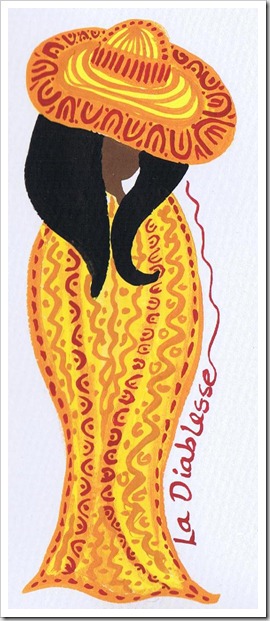 At this time of year, when the world turns into zombies, witches, skeletons and ghosts, I keenly feel my otherness. This is not my mythology. These are not the demons I grew up with, the ghouls that subtly shaped my culture, that shaped me.
Not that you'd know that today. Without wanting to sound too much the nostalgic migrant, every time I go back to Trinidad and Tobago, I am amazed at just how strong the influence of American television has become. Cable is a hell of a thing.
What was Halloween when I was growing up? It was never something I thought much about. A few wealthy kids and some expat families might dress up and go trick-o-treating but it generally wasn't our thing.
Now, it seems that whether I raise my daughter here in the UK or over there in Trinidad, this commercialised and gutted version of a European pagan festival presents a challenge for our cultural navigation.
Facing it, I'm actually a lot more inclined to tell her about our creole folklore before she reads, watches or otherwise absorbs the fictions Halloween might throw her way. For one thing, our stories are rooted in the history of slavery or in a deep respect for nature so I'd feel like I was passing on an important piece of her heritage.
Forget the vampires and werewolves. I'll tell her stories of La Diablesse, the one-hoofed woman who lures men astray with dark arts of seduction. We'll speak of childlike douens with feet turned backwards, who call their child victims into the forest. She'll know of soucouyant who scrapes off her old woman guise, turns into a ball of fire and goes in search of blood.
Our demons are not as well documented as Europe's or America's. They have hardly been committed to paper. They mainly live in an oral tradition, stories we make more powerful through repetition. I won't repeat them to tell her what she should know. I'll repeat what's been handed to me because it will tell her something about who I am and who she is.
I grew up superstitious. There is a powerful connection between a culture of spoken stories and a way of perceiving and living. From flat tires to war zones, everything had a spiritual explanation when I was growing up. If enough bad things happened to one person, obeah (black magic) was called into question. I'm not saying it's not true. Who's to know? What I am saying is that this is a very different lens through which to see the world.
In many ways, I think the British miss out by not holding on to this heightened awareness of spirituality, real or perceived. I am generalising a bit, I know, but so many people I've met have closed themselves to any possibility that exists outside their own experience.
They walk around with shrivelled imaginations and low expectations for what commonplace events might carry. I can't help thinking that maybe they needed to hear more stories when they were growing up. Or perhaps they just didn't hear the right ones.
You can find Adele at her blog and on Twitter.