Do teachers need to be good at spelling?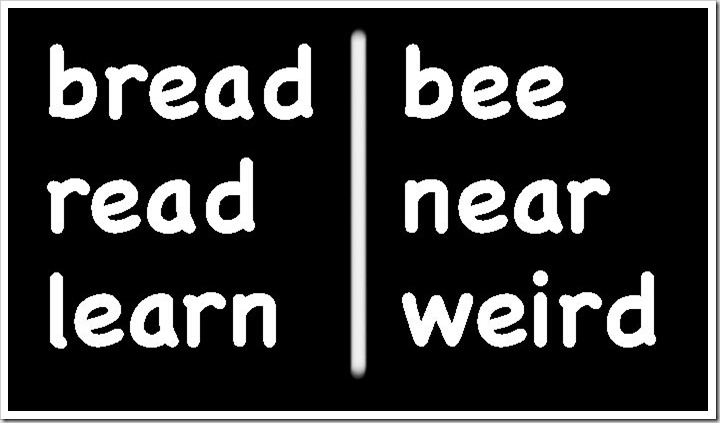 A friend of mine linked to a question on BBC Breakfast's Facebook page yesterday. Apparently, a school in Ipswich has advertised for proofreaders to check school reports and this lead to the question "Do you think it's important that a teacher can spell or do you think there's more to being a good teacher than good spelling?"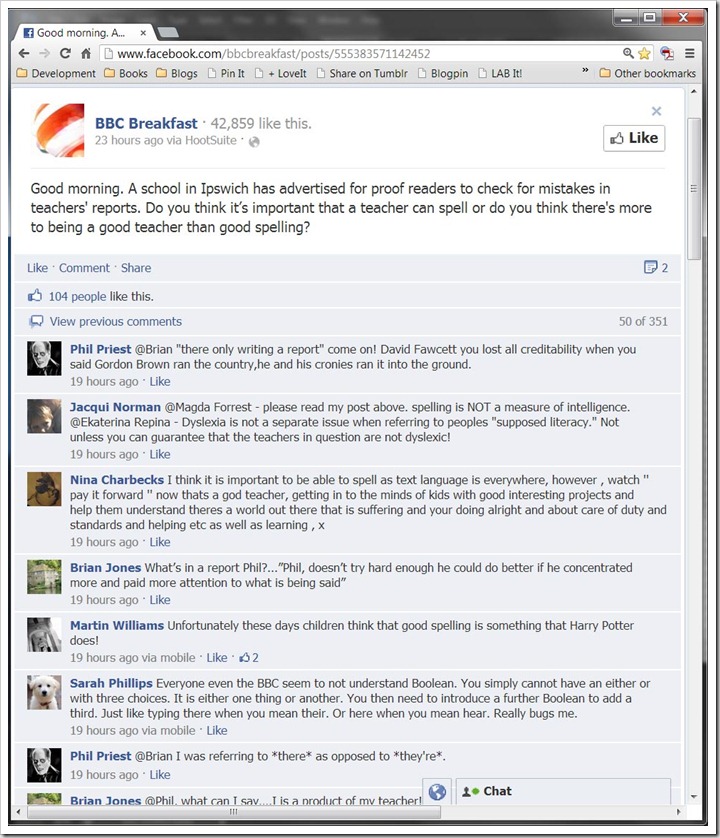 There are over 350 responses to the question, many of them seemingly shocked that a school should be spending money on proofreaders, others stating unequivocally that teachers have to be able to spell or the children will suffer. There are also a few comments pointing out that there is a lot more to being a good teacher than being able to spell.
You can't proofread your own work
Before I get into the question of whether teachers need to be good at spelling, let's address the question of hiring proofreaders. The idea that the hiring of proofreaders by the school (and they're not hiring a full-time proofreader, rather using freelancers – at an incredibly cheap rate – for a maximum of 20 days a year, so less than £2000 a year) automatically equates to teachers not being able to spell is laughable. Especially if you read the comments, which are, of course, riddled with spelling and grammar errors and all the kinds of typos that everyone makes when typing a quick response online.
I have been a professional editor for 15 years but, if I read back over a blog post a few days after writing it, I will almost always spot an error or two. If I read back a few months later, I'll spot more. There will be stupid mistakes that I'll kick myself over. I do read my blog posts over before hitting 'Publish', but I see what I'm expecting to see. I see what I remember writing. There are almost certainly some in this blog post. This is completely normal. You can be an expert in spelling, grammar and punctuation and you will still not see that you accidentally typed 'are' instead of 'our' or missed out a word when moving your sentences around.
What most teachers aren't, even if they are brilliant at spelling, is professional proofreaders or editors. If a head teacher has to spend 140 hours in a school year proofreading reports, that's 140 hours that they're not doing much more important work. And, unless they're a trained editor, they will still miss things.
And I've seen other status updates on Facebook complaining about a school or nursery prospectus being full of spelling mistakes and how they couldn't possibly send their child there, because if they can't put across a professional image in their prospectus how are they supposed look after their children. I've suggested that they would do well to pay a freelancer a small amount of money to proofread their reports before they publish them, because that's the best way to eliminate such errors. (I've also pointed out that spelling mistakes in the prospectus of a nursery, does not equate to staff who can't look after children.)
So, I think the school actually did something very sensible in hiring some proofreaders to check their reports before they go out to parents, though if they're only paying them £14.02 an hour, they might not get the top-notch proofreaders.
Do teachers need to be good at spelling?
First of all, since many teachers went through an education system that wasn't brilliant at teaching spelling, you're going to find it quite hard to populate the whole of the teaching profession with people who are brilliant spellers. Sure, it would be nice if all teachers were perfect spellers. But I'd much rather have a bad speller who is a brilliant teacher than a good speller who has no idea how to inspire or interest children. I'd rather have a bad speller, who can capture the attention of children and have the authority to keep them from running amok. I'm a good speller, and I'm a pretty good linguist. But that didn't help me at all when I was running a Spanish Club. Being able to spell had no bearing on my ability to come up with games and songs and activities to engage the children. Being able to chat away in Spanish to a friend in a bar, did not in any way help me to get a few children to learn that 'gato' means 'cat' or how to count to ten in Spanish.
Can a primary teacher teach spelling without being able to spell themselves? Yes. They can teach all the strategies and use the most up-to-date methods. These days much of spelling is related to phonics. Children will be taught about the different vowel or consonant groups that make the same sound, for example. So your child's spelling book might have a series of words one week that all have the 'ee' sound, but make the sound in different ways – 'ee', 'ea', 'ei'. When they get further on, they might have spellings that look at different ways to form plurals – 'cat>cats', 'baby>babies', 'puppy>puppies'… How does a teacher know about these? Well, they've been taught about them. They have read up on new strategies, or had recent training in new methods. They have books and guides that provide groupings of different words. They discuss methods with their colleagues. And, of course, they can use other strategies, like checking in a dictionary.
What about secondary school? Can someone teach PE and still struggle with spelling? Yes! Can someone teach History and still struggle with spelling? Yes! And, yes, you can even teach English and have spelling issues. Because there is even more to teaching English (in primary and secondary school) than just spelling.
And do you know what? Because of the excellent new(er) methods and strategies that have been developed for teaching spelling, the children learning today (being taught by teachers who might not, in fact, be brilliant at spelling) will go on to be much better spellers than their teachers – and their parents!
So, no, I don't think teachers need to be good at spelling, though it's nice when they are. There are definitely much more important aspects to teaching.
Dyslexia
Finally, I can't write a post about spelling without mentioning dyslexia. Around 5% of the population has dyslexia. Dyslexia affects spelling among other things. It does not affect intelligence. There are brilliant teachers and early years professionals out there who are dyslexic – including my sister. It does not, and should not, stop them from being brilliant at what they do. Yes, their reports might have a few more spelling errors than others, but that doesn't mean they aren't doing fantastic jobs with your children.
So, I say, good for Northgate High School – get a professional proofreader to do the proofreading and free up the professional teachers to do the teaching. Seems like a perfect solution, to me, and may very well be economically sound, too.
What do you think? Were they right to hire proofreaders? Do you think teachers need to be good at spelling? Are you good at spelling? Do you ever read something you wrote a while ago and cringe at all the mistakes?