This Moose Belongs to Me by Oliver Jeffers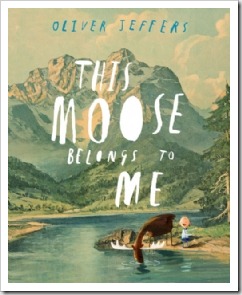 We are huge fans of Oliver Jeffers in this house, as I mentioned in our review of the Lost and Found pop-up book (which, incidentally, is one of the nicest pop-up books we have and so far hasn't broken at all). And this one doesn't disappoint at all.
As is so often the case with Oliver Jeffers, the story is somewhat bizarre and surreal. There is a little boy (Wilfred) who believes he owns a moose (Marcel), but then finds out that other people seem to think the moose belongs to them. It turns out that the moose probably doesn't belong to anyone and really just wants to please himself, which sometimes might coincide with pleasing others, including Wilfred.
There are some great comic touches throughout, that may appeal to adults more than children, such as the glimpses of the rules that Wilfred has made for 'how to be a good pet':
Rule 7 [subsection b]: Maintaining a certain proximity to home.
The children enjoy it a lot and find it quite funny and have acted it out a bit (as they seem to do with so many picture books at the moment).
The art is amazing. The main characters (the moose, Wilfred and the Spanish lady and French priest) are in a familiar style that you'll recognise from How to Catch a Star and Lost and Found, among others, but they are layered on top of some rather majestic landscapes, as though Wilfred is running from painting to painting, which is demonstrated quite well in the book trailer:
Video of RoRo reviewing This Moose Belongs to Me by Oliver Jeffers
And here's a less professional video – of RoRo giving her personal review of the book: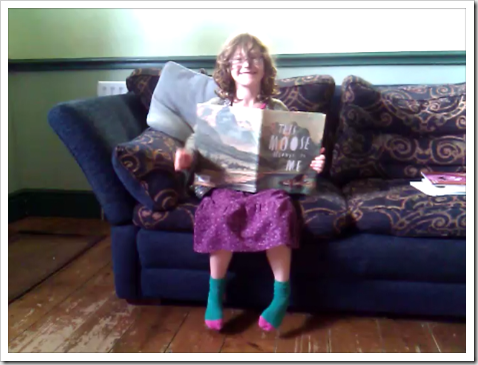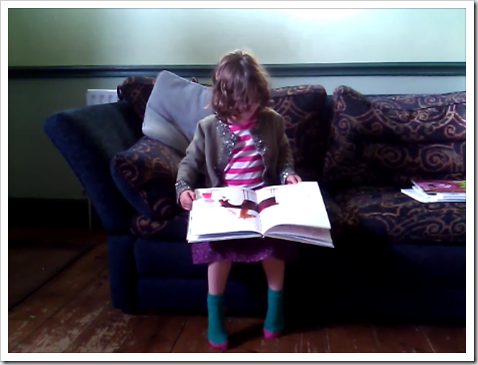 You can buy This Moose Belongs to Me on Amazon, at WH Smith, from the publisher (Harper Collins) and, of course, from your local children's bookshop – please do support your local children's bookshop!
Disclaimer: We were sent a copy of This Moose Belongs to Me by the publishers (Harper Collins) but the opinions are all our own.