How inspirational picture books can be
This morning some picture books came back downstairs from where they'd been hiding in the review pile above my desk. While I made my tea LaLa was reading The Paper Dolls – she was going through telling the story and reciting "We're Ticky and Tacky and Jackie the Backie and Jim with Two Noses and Jo with a bow" and "You can't catch us. Oh no, no, no. We're holding hands and we won't let go." We read The Paper Dolls, This is Not My Hat and Zoe and Beans: Hello Oscar!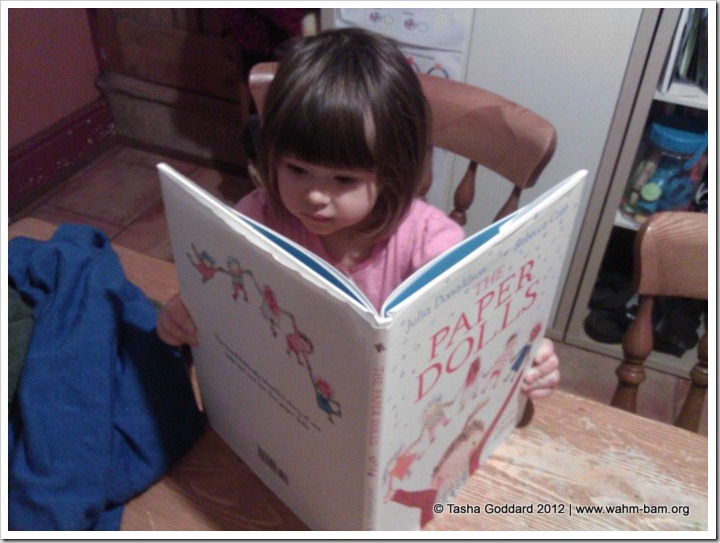 Then we sat down on the armchair in the living room and read The Paper Dolls, This is Not My Hat and Zoe and Beans: Hello Oscar! with LaLa talking about different bits in each book – the butterfly clip, the tiger and all the bits and bobs in the little girl's memory in The Paper Dolls, the open eye of the big fish and the fact (it is definitely true, apparently) that the big fish has gobbled up the little fish in This is Not My Hat and the carrots and parrot in Hello Oscar!
And then… LaLa asked to act them out. We (and, since RoRo isn't up yet, I had to join in) acted out Hello Oscar! twice, once with me being Zoe and LaLa hiding behind the door (the fence) and being Oscar and once with LaLa being Oscar and me hiding behind a cushion (the fence) and being Oscar. We acted out This is Not My Hat about ten times, swapping around who was which fish – I feel I really got into the role of the little fish, turning him into a bit of a 1950s lovable rogue with a tipped hat perched on his head. And then we acted out The Paper Dolls, with us being Ticky and Tacky and a toy rabbit being Jackie the Backie (the other two were absent due to our inability to hold hands with three toys and each other), and incorporating the tiger attack and sliding down the stairs (we didn't get to the being cut up into tiny little pieces and being reincarnated in a little girl's memory, though I'm sure the girls will come up with a way to act that out any day now).
I love how picture books can get into children's imaginations and inspire them to act them out or draw them or make things from them (I have a feeling there will be some paper dolls made in this house very soon). I love how, even after only a few readings, a child can know a story so well, they can 'read' the book before they know how to read. I love how there are so very many picture books to choose from.
We are very lucky to be sent quite a few picture books to review here, but we also have hundreds that we have bought ourselves (some new and some second hand), that have been as presents for the girls, others that have been passed along from family (especially ones from mine and my sister's childhoods), and we almost always have close to 40 books out on the girls' cards from the library at any one time, most of which are picture books, with a few readers and chapter books and fact books thrown in. I hope that the glimpses we bring of some of these books (including some of our silly and unprofessional videos) and how they engage the girls help you to discover new books for your children.